I took a close look at the Dallas Cowboys' offense on Thursday and how the Eagles may try to defend them, but what about the other side of the ball? No one really expected this defense to play the way it has through eight games, and why would they? This outfit hasn't been one to fear in years, maybe not since DeMarcus Ware was in his early prime. Why would that change now?
Well, first off, they're (mostly) healthy. Other than losing Orlando Scandrick, arguably the team's best cover corner, to injury over the summer, the Dallas defense hasn't really had to face much in terms of injuries. Sean Lee is back and when he's healthy he's one of the top linebackers in the entire league. Defensive end DeMarcus Lawrence is good to go, as is cornerback Mo Claiborne.
Secondly, it's the third year now with Rod Marinelli on staff, and the second with him as defensive coordinator, so they know what to expect and they're executing at a high level. And last, but not least, the talent level is higher than it has been in years past. Defensive back Byron Jones and defensive end Randy Gregory were two first-round talents who they got with their first two picks in the NFL Draft. Defensive end Greg Hardy is an excellent football player. Younger players like Lawrence, linebacker Anthony Hitchens and Claiborne are coming along nicely as well. The result has been a unit that plays hungry with a chip on its shoulder because they think they have a lot to prove.
Let's take a look at this personnel, starting up front with Hardy.
Say what you want about Hardy outside the lines, when he steps on the field he is one of the most effective defensive linemen in the game because of his combination of size, length and athleticism. Marinelli lines him up all across the formation, and he has won matchups against tackles and guards alike because of his skill set. In the play above, you see an incredibly athletic play where he stays upright after an attempted cut block, remains balanced, knocks the ball up and has the awareness to track it down and return the interception after reeling it in. One of the team leaders in sacks despite his suspension to start the year, Hardy is incredibly productive against the pass, but he's also very effective against the run.
Here's a play from his first game as a Cowboy, lined up inside against Patriots tight end Rob Gronkowski, who he completely controls at the point of attack. I've seen Hardy make plays like this - not just against tight ends - but against offensive linemen inside and outside throughout his career.
The other area where he stands out is in pursuit. Here you see him make the play from the back side as the unblocked defender in this zone run from Seattle. This is important to note because the Eagles run plays like this pretty often. Hardy will have to be accounted for even when they run in the opposite direction. Will they use more read elements? Will we see more split zone with a tight end coming across the formation to block him? I'm interested to see how the Eagles handle him in those situations.
Everyone remembers the movement the Cowboys used up front to help wreck the Eagles' run game back in Week 2? Dallas used a number of different stunts along the defensive line to create penetration in the Eagles' zone run game. That's not exactly what you see here on this play, where Hardy just goes backdoor with an arm-over move, but those stunts up front will be important for the Eagles to stop in this game. Notice, again, the pursuit from the back side, this time from Lawrence, who explodes into Marshawn Lynch at the end of this run.
The Cowboys aren't a huge blitz team. They're not a defense that will line up in a bunch of exotic looks to create confusion for the offensive line. Those stunts, however, are very common, and you'll see them use it to stop both the run and the pass.
You can see on both of these sacks against New Orleans, Dallas uses twists up front to pick off offensive linemen and spring a rusher free on the quarterback. The Eagles will have to be prepared for two- and three-man stunts on Sunday night when they take the field.
In the secondary, Byron Jones has really made a name for himself. The rookie first-round pick out of UConn started the year playing a little bit of both corner and safety, but has settled in nicely as the free safety starting opposite of Barry Church in base packages. When Dallas goes to nickel or dime, however, Jones comes down into the slot, where he is matched up against tight ends or slot receivers. He is used in a wide variety of ways, whether it's matched up in man coverage in the slot, out wide, as a single-high defender or as an underneath zone player. He does it all for this defense.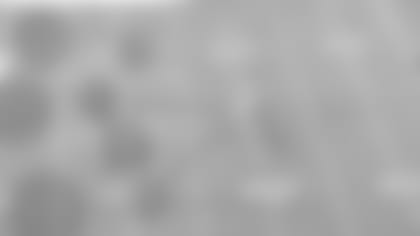 On this play against Seattle, Jones is lined up at safety in Dallas' base defense, but is rolling down as an underneath zone defender in this Cover 3 look.
Jones immediately reads this pass to the flat and comes downhill to make the tackle on the tight end.
Here against the Giants, Jones is playing as a single-high defender in man free coverage. He's a bit late to react, but look at how his athleticism allows him to overcome that, as he gets in position to break up this pass to Rueben Randle.
And lastly, here's Jones in man coverage against the tight end in New York's "mesh" concept. Jones has been improving week in and week out for this Dallas team, starting solely as the dime back when the Eagles last saw him in Week 2. Now, he's one of the major players on this defensive unit.
Fran Duffy is the producer of "Eagles Game Plan" which can be seen on Saturdays during the season. Be sure to also check out the "Eagle Eye In The Sky" podcast on the Philadelphia Eagles podcast channel on iTunes. Prior to joining the Eagles in 2011, Duffy was the head video coordinator for the Temple University Football team under former head coach Al Golden. In that role, he spent thousands of hours shooting, logging and assisting with the breakdown of the All-22 film from the team's games, practices and opponents.