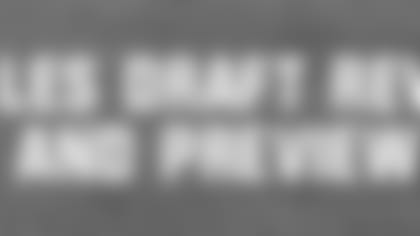 OVERVIEW**
Donovan McNabb remains the triggerman for Andy Reid's offense. Amid controversy and criticism, McNabb has stood tall during his 10 years in Philadelphia. In fact, last season McNabb overcame a second-half benching in Baltimore to help rally his team to four wins over the season's final five weeks and a berth in the postseason.
A five-time Pro Bowl player, McNabb has led the Eagles to five NFC Championship game appearances and more wins (82) than any other quarterback in team history. He became the franchise leader in attempts (4,303), completions (2,543), yards (29,320) and touchdowns (194) in 2008. He also set single-season franchise records with 345 completions and 3,916 passing yards last year. His career record of 82-45-1 ranks him seventh in the NFL all-time in win percentage and third among active quarterbacks with at least 100 starts.
On the business side, McNabb is reportedly seeking a contract extension.
Meanwhile, backup Kevin Kolb patiently awaits his next opportunity as he enters his third season. The coaches remain high on Kolb despite his performance in the second half of the November game at Baltimore. Against the Ravens he completed just 10 of 23 passes for 73 yards and two interceptions, including one that safety Ed Reed returned 108 yards for a touchdown.
Kolb hopes to get his chance to direct the Eagles' offense again; however, barring any unforeseen development, he figures to be McNabb's understudy again in 2009.
Third on the depth chart is A.J. Feeley, who has proven time and again that he can step in and win football games at this level. As an Eagle, Feeley has completed 58.6 percent of his passes for 2,177 yards and 16 touchdowns. He knows his role and he is comfortable in it.
REVIEW
Cleveland, Philadelphia and Cincinnati, Nos. 1, 2, 3, respectively, entered the 1999 Draft hoping to land a franchise quarterback. While the Browns and Bengals were left largely disappointed in Tim Couch (Kentucky) and Akili Smith (Oregon), the Eagles found a keeper in McNabb, who starred collegiately at Syracuse. Reid and his staff did their homework and were rewarded with the prize quarterback of the 1999 draft class.
Two years later the personnel department dipped into the draft for Feeley, a fifth-round draft pick who played in the shadows of Joey Harrington at the University of Oregon. The selection of Feeley paid off in more ways than one. First, when pressed into action Feeley won key games down the stretch in 2002 after McNabb and Koy Detmer sustained injuries. Feeley's success caught the attention of the Dolphins, and following the 2003 season, he was was dealt to Miami for a second-round pick, which the Eagles used to select wide receiver Reggie Brown. Though things didn't work out in Miami - and in San Diego during the 2005 season - Feeley returned to Philadelphia in 2006.
The selection of Kolb in 2007 caught many by surprise. The Eagles' first pick of the 2007 draft (2nd round, 36th overall), Kolb was a four-year starter at the University of Houston, where he turned in one of the finest seasons by a quarterback in school history as a senior en route to being named Conference USA offensive player of the year.
PREVIEWWith McNabb, Kolb and Feeley under contract for just two more seasons, don't dismiss the notion of the team using an early-to-mid round pick on a young prospect. The Eagles added Feeley just two years after drafting McNabb with the second overall pick. Reid and offensive coordinator Marty Mornhinweg have a proven track record with quarterbacks, so at this position, never say never.