After playing 14 seasons in the NFL and capturing a Super Bowl championship in 2017, punter Donnie Jones announced that he will retire from the NFL.
Originally a seventh-round draft pick of the Seattle Seahawks in 2004, Jones went on to play in 214 regular-season games, including the final 80 with the Philadelphia Eagles, and earned Associated Press All-Pro honors in 2008 and 2009 while punting for the St. Louis Rams. Over the course of his career, Jones registered a 45.5-yard average on 1,110 career punts.
Jones retires as Philadelphia's all-time leader in both gross punting average (45.37) and net average (40.5). He also owns the team records for most career punts inside the 20 (138), most single-season punts inside the 20 (34, 2014) and best net punting average in a season (41.6, 2015).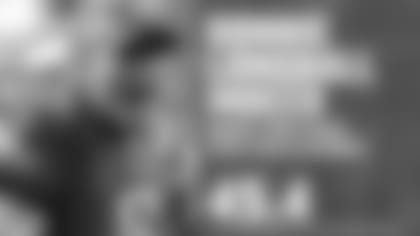 "After 14 seasons in the NFL, I have decided to retire so that I can spend more time with my family," said Jones. "I am grateful for all those who have supported me throughout the years. Specifically, I would like to thank Jeffrey Lurie, Howie Roseman, Doug Pederson, and the entire Eagles organization for allowing me to be a part of their family for the past five seasons. I will truly miss my teammates, coaches, friends, and the best fans in the NFL. Although I am retiring, I will always be an Eagle and will forever have a special place in my heart for the City of Philadelphia. It is a great honor to be a part of the first Super Bowl championship team in Eagles history and there is no better way to finish my career."
Jones originally signed with the Eagles as a free agent in 2013 after spending the 2012 season with Houston. Prior to Houston, he punted for the St. Louis Rams (2007-2011), Miami Dolphins (2005-06), and Seattle Seahawks (2004). During his Eagles career (2013-2017), Jones set the record for most regular-season games played by an Eagles punter (80). Jones has played in all 16 regular-season games dating back to the 2005 season – his second year in the NFL – and at the time of his retirement, holds the third-longest consecutive-games-played streak (208) behind only Texans punter Shane Lechler (254) and Cowboys tight end Jason Witten (235).
Philadelphia Eagles Statement
"We want to congratulate Donnie Jones on reaching the pinnacle of his career and retiring as a Super Bowl champion. Donnie is a professional in every sense of the word and we wish him all the best in retirement. We owe much of our recent special teams success to Donnie, as evidenced by the numerous franchise punting records he set during his five-year run with the Eagles. We will miss Donnie's ability on the field, but will also miss his enthusiastic personality and the daily commitment he made to engaging with our community and our fan base."