Prior to Monday night's game against the Carolina Panthers, the Eagles hadn't played in front of the Lincoln Financial Field crowd in 29 days. Of course, the Black Sunday victory over the Giants left Eagles fans wondering how the home team could possibly top that Sunday Night win.
Apparently, 45-21 is how.
The Eagles dominated Carolina on Monday, providing #EaglesNation with back-to-back satisfying primetime victories. While the atmosphere inside Lincoln Financial Field was as electric as ever, there was just as much fun to be found on social media. Here's a look at how the game unfolded on the Eagles' social sphere ...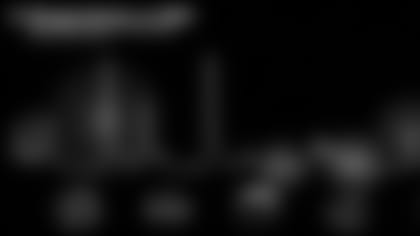 Carolina received the ball first to start the game, but the Panthers weren't able to hold onto the ball for very long. DeAngelo Williams fumbled on Carolina's second play. Following a Cody Parkey field goal, Cam Newton would throw his first of three interceptions on the night, once again setting up the Eagles in Carolina territory. On second-and-goal from the eight-yard line, Darren Sproles cruised into the end zone, giving the Eagles an early two-possession lead …
Traveling Round-Trip On The Sprole Train
Sproles' 8-yard touchdown scamper apparently wasn't enough for the Eagles' X-factor. The Panthers cut the Eagles lead to three points, but with just over three minutes left in the first quarter, Carolina decided to punt the ball to Sproles. Bad idea ...
The Rook And The Vet Build The Eagles Lead
As the game progressed, the Eagles defense asserted its dominance over the Panthers, forcing a total of five turnovers. Each of these turnovers swung the momentum more and more into the Eagles favor. It seemed as if every time the defense stepped up, the offense was there to capitalize. Starting in his first NFL game since the 2012 season, Mark Sanchez played one of the best games of his career, throwing for 332 yards and two touchdowns. Both touchdowns and 138 of Sanchez's yards came on connections with Jordan Matthews, and the chemistry between the duo led the Eagles to a commanding 45-7 lead early in the fourth quarter ...
Finishing The Night In First Place
When it was all said and done, the Eagles came away with a commanding 45-21 victory and held onto their top spot in the NFC East. It was a terrific all-around performance from the Eagles, which included touchdowns in all three phases and a relatively stress-free finish for the fans. All in all, it was a fun night to be an Eagles fan ...