Tim Rossovich played only four seasons with the Eagles but in that short time he made an impact. On the field, he fit the mold of a hard-nosed middle linebacker. But off the field, he was a free-spirited, fun-loving child of the 1960s.
"Tim was the kind of guy who lived on the razor's edge of rationality and once in a while he would tip off to the wrong side," said NFL Films president Steve Sabol, who shared an apartment with Rossovich for two seasons. "I mean, how many people do you know who set themselves on fire?"
"Whatever you heard about Tim, believe it," said Ron Medved, a former Eagles teammate. "People would say to me, 'Is it true Rossovich,' I didn't even let them finish. I'd say, 'Yeah, it's true.' Or they'd say, 'I heard Rossovich,' I'd say, 'Yeah, he did it.' Whatever it was, I was sure Tim had done it. He was a wild man."
Rossovich died Thursday in California after a long illness. He was 72 years old. An All-America player at Southern Cal, Rossovich was a first-round draft pick by the Eagles in 1968 who made a Pro Bowl in his second season, but he is probably remembered more for his antics off the field which included, yes, setting himself on fire.
"It sounds very insane but it was really well calculated," Rossovich said in a 1997 NFL Films interview. "It was pretty much a magical trick, a gag."
"The technique was to wear two T-shirts," said Gary Pettigrew, Rossovich's friend and teammate. "One T-shirt was against the skin, fairly tight. The other was the one that you'd soak in the lighter fluid. That's the one you would light. The fluid was all in the front, so the fire wasn't that close to the skin."
Rossovich often did it when he walked into a party. The people would be so freaked out, they wouldn't see anything except the flames that appeared to be engulfing the 6-4, 230-pound football player. There was always a teammate – usually either Pettigrew or Medved – nearby to quickly douse the fire. It was not the death-defying act it appeared to be.
"A couple times I heard my hair crackling," Rossovich said, "and my mustache got singed now and then but it was really just done for effect, just to get attention. Reporters would ask, 'Why do you do this?' I'd say, 'This is why I do this.' It attracted attention."
In 1971, Sports Illustrated devoted a dozen pages to Rossovich in a profile entitled, "He's Burning to Be a Success." The Eagles were a losing team at the time, so it wasn't easy to command that kind of publicity in a national magazine but Rossovich, with his bushy hair and Rasputin stare, was a larger-than-life personality. After winning a national title with Southern Cal, he was frustrated with the losing in Philadelphia, so he had fun in other ways.
"I live my life to enjoy myself, I can't explain the things I do much beyond that," Rossovich told Sports Illustrated's John Underwood. "I have more energy than I know what to do with. I can't just sit around. I get bored. A lot of what I do is silly, trying to cheer people up, trying to cheer myself up."
Among other things Rossovich did were:
Biting the tops off beer bottles and chewing glass.
Diving head first into the whirlpool.
Wearing tie-dye capes and listening to Gregorian chants on the stereo.
Grabbing a spider off a locker room table and eating it.
Diving naked into a birthday cake.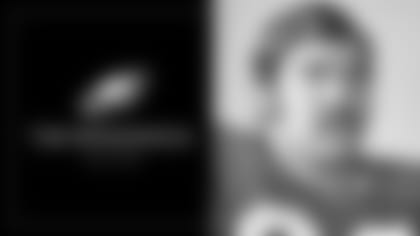 One day during the 1970 Training Camp at Albright College in Reading, a severe thunderstorm rolled through town, wiping out the afternoon practice and flooding the streets. Rossovich grabbed a table from the locker room, took it outside, and rode it like a surfboard on the rushing water. He paddled down the hill alongside the rush-hour traffic.
"We did a show about Tim called 'The New Breed,'" Sabol said. "We went to the beach and I filmed Tim making a candle and reciting poetry. It was so unusual at the time there were two (team) owners who called dad (NFL Films founder Ed Sabol) and complained about seeing that on TV. They described Tim's behavior as subversive and immoral."
Rossovich reflected the social change taking place in America. A whole new generation of kids was coming out of college in the '60s and clashing what they called The Establishment. Some of those young people took to the streets. Others like Rossovich went into professional sports and questioned the old ways of doing things.
For example, when Ed Khayat took over as Eagles head coach one month into the 1971 season, he posted an order: no long hair, no mustaches. Rossovich spoke out against it and, in fact, was the last player to comply. He did not go into the bathroom to shave off his mustache until five minutes before the coach's noon deadline.
"It didn't make sense to me," Rossovich said. "The length of your hair, the width of your lapels or your necktie. Did you have a mustache? What did that have to do with playing football? (Khayat) said it improved discipline. I thought it was the opposite. It created a situation where guys were talking about this stuff instead of getting better as a football team.
"We were in a very turbulent time, socially and politically. The Vietnam war was going on and I had friends over there, good friends who were dying. I felt I was in a position to make a kind of statement and say, 'These rules don't make sense. What's the point?'"
It was a turbulent time with the Eagles as well. Rossovich played for three different head coaches in his four years with the team. He also changed positions starting as a defensive end and moving to middle linebacker in his third season. He made the Pro Bowl as a defensive end and outplayed future Pro Football Hall of Fame tackle Bob Brown when they went head-to-head in a 1969 game at Franklin Field. He wasn't as impactful when the coaches moved him to linebacker.
In 1972, Rossovich and safety Bill Bradley staged a dual holdout at Training Camp. They frustrated the team's front office, especially when they began showing up in their RV selling drinks to the fans at the practices. The Eagles swapped the linebacker to the San Diego Chargers for a first-round draft pick and Bradley ended his holdout shortly thereafter.
Rossovich's career wound down from there. He spent one season with the Chargers and two seasons with the Philadelphia Bell of the World Football League before ending his career with the Houston Oilers in 1976. Given his daredevil antics, it came as no surprise when he found work in Hollywood as an actor and stuntman.
"It bothers my mother when I get killed (in the movies) all the time," Rossovich once said. "But then she says, 'As long as the paycheck is in the mailbox, I guess it's OK.' I enjoy my life. It's like yesterday is history, tomorrow's a mystery. I feel like the only thing I'm guaranteed is today and I'm gonna live it to the utmost."
An award-winning writer and producer, Ray Didinger was inducted into the Pro Football Hall of Fame in 1995. He has also won six Emmy Awards for his work as a writer and producer at NFL Films. The five-time Pennsylvania Sportswriter of the Year is a writer and analyst for NBC Sports Philadelphia. Didinger will provide Eagles fans a unique historical perspective on the team throughout the year for PhiladelphiaEagles.com. You can read all of his _Eagles History columns here_. He is also the author ofThe Eagles Encyclopedia: Champions Edition which is in bookstores now.