When the Eagles won their first two World Championships – 1948 and '49 – they scored just three touchdowns in the two title games.
Steve Van Buren had the only touchdown in the 7-0 win over the Chicago Cardinals, a game played in a blizzard at Shibe Park. Pete Pihos and Leo Skladany scored in the 14-0 win over the Los Angeles Rams, a game played in rain and mud at the L.A. Coliseum.
Take another look at those names: Van Buren, Pihos, and Skladany. Which one looks like a misprint? Van Buren, a halfback, and Pihos, an end, are in the Pro Football Hall of Fame. They are two of the greatest players in franchise history. But Leo Skladany?
"People say I was there for a cup of coffee," Skladany once said with a laugh. "It was more like half a cup."
Skladany played exactly four games with the Eagles in 1949 but one of them was the championship game against the Rams. In that game, even though he played just a few snaps, Skladany made one of the biggest plays in team history. He blocked a punt by the great Bob Waterfield and recovered the loose ball in the end zone for the touchdown that put the Eagles ahead 14-0 in the third quarter. He basically put the game away.
"You don't expect a rookie to make that kind of play in a championship game," tackle Vic Sears said. "Waterfield was a great punter, one of the best in the league, and Leo almost took the ball off his foot. It gave us a tremendous lift. We knew there was no way the Rams were going to come back from 14 points down, not against our defense."
Skladany was a 6-2 and 210-pound end, a 17th-round draft pick from Pitt. The Eagles took linebacker Chuck Bednarik with the first pick in that draft; they took Skladany with the 171st. The Eagles were a powerhouse team, coming off the championship win in 1948. Their roster was loaded with talented veterans. How many rookies were going to crack that lineup? Only three: Bednarik, of course. Frank Ziegler, a halfback from Georgia Tech. And Skladany.
"He made an impression right away," Sears said of Skladany. "He was a pretty big kid and very tough. In one of the early scrimmages, he came up to tackle Van Buren and Steve ran right through him. Steve did that to a lot of guys. It was like trying to stop a freight train. But Skladany came back on the next play and got Steve on the ground. That got everyone's attention."
Coach Greasy Neale liked Skladany but when it came to the final cutdown, he didn't have room on the roster. He sent Skladany to a semi-pro team in Paterson, New Jersey, so he would be close by in case one of the veterans was injured. Sure enough, defensive end Johnny Green hurt his knee and Skladany was on the next train to Philadelphia.
"I couldn't believe my good fortune," Skladany said. "I spent that season making $200 a game in Paterson. I had a day job working in a factory making storm windows. All of a sudden, I was with the Eagles playing with guys like Van Buren, Bednarik, and Pihos."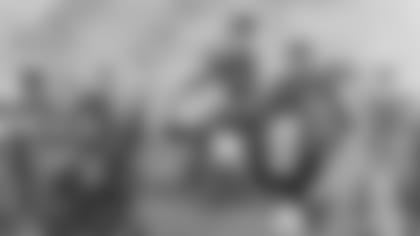 Skladany was taken aback by the give-and-take between Neale and the Eagles' veterans. Neale had a reputation as a gruff disciplinarian but what Skladany saw on the practice field was something very different.
"I couldn't get over the way the players talked to Greasy," Skladany said. "First of all, they called him Greasy. No one called him 'Coach' except me. And they did things just to irritate him.
"One day we were loosening up before practice. We were rotating our arms like this. But Wojie (linebacker Alex Wojciechowicz) was just wiggling his fingers. Greasy said, 'Wojie, you better play a good game this week or else.' Wojie just laughed. Another time a couple guys caught this big stinky fish and hid it under Greasy's bed. It stayed there for days stinking up the room until Greasy found it and threw it away.
"I thought, 'Who treats a coach like this? Where is the respect?' But after I was there awhile, I understood. The guys had tremendous respect for Greasy. On the things that mattered, like preparing for games and getting the team motivated, he was the boss. He spoke and everyone listened. The other stuff was just for fun and I think deep down Greasy enjoyed it more than anyone."
Skladany played a few snaps on defense late in the season and figured to have a very small role in the title game. Because Neale was afraid to fly, the Eagles took a train to Los Angeles. It took three days and the players passed the time by playing cards. Every night there was a pinochle game, penny a point, with Neale dealing the cards and telling jokes.
"Some of the guys complained of being tired when we got to Los Angeles," Skladany said. "We hadn't done much except sit around. I know Steve said he was tired and I thought, 'If Steve's tired, we're in trouble,' because he was our main man. But he wasn't tired on gameday. He ran over those Rams all day."
Van Buren ran through the ankle-deep mud for 196 yards, a championship game record, but the Eagles were leading just 7-0 in the third quarter on Pihos' touchdown catch from quarterback Tommy Thompson. That's when Neale put Skladany in on fourth down to rush the punter.
"I just took a straight line to Waterfield," Skladany said. "I threw myself through the air and I was lucky enough to get the ball just as it was coming off his foot. The ball stuck in the mud, that's how deep it was. I grabbed it and skidded across the goal line. The other players all mobbed me. What a feeling."
The Eagles had a victory party that night at the Bel Air Hotel. While the champagne was flowing, one of the owners promised Skladany he would be rewarded by having his half share of the winner's check boosted to a full share.
"The next day everybody sobered up and I never heard about my bonus again," Skladany said. He never complained, however.
"I had an experience I'll never forget," he said. "I would've played for nothing that day. Today, it's all about the money. Back in those days, football was football."
The Eagles traded Skladany to the New York Giants the following season. He played just four games in New York and called it a career, but his name will forever be part of Eagles history.
An award-winning writer and producer, Ray Didinger was inducted into the Pro Football Hall of Fame in 1995. He has also won six Emmy Awards for his work as a writer and producer at NFL Films. The five-time Pennsylvania Sportswriter of the Year is a writer and analyst for NBC Sports Philadelphia. Didinger will provide Eagles fans a unique historical perspective on the team throughout the year for PhiladelphiaEagles.com. You can read all of his _Eagles History columns here_. He is also the author ofThe Eagles Encyclopedia: Champions Edition which is in bookstores now.