I've spent almost half a century covering the Eagles. That's roughly 800 games, give or take a few preseason affairs I barely remember. Typically, I'm tucked away in the press box with no influence on the game itself and that's fine with me.
Only once did I factor into the storyline and it was on December 30, 1995, when the Eagles buried Detroit, 58-37, in an NFC Wild Card game at Veterans Stadium. It happened more or less by accident, but head coach Ray Rhodes gave me credit nevertheless.
I was writing for the Philadelphia Daily News at the time and I went to Detroit to write a piece previewing the game. The Lions had the same 10-6 record as the Eagles but they were the hotter team with Barry Sanders running the ball and receiver Herman Moore putting up monster numbers every week. The Lions were road favorites coming into the Vet.
I was assigned to do a story on Sanders but he was in the shower when they opened the locker room to the media. I saw a few reporters across the room talking to tackle Lomas Brown. I figured I'd listen in while I waited for Sanders. As I joined the circle around Brown, I heard him say: "Any oddsmaker who doesn't pick us is doing himself a great disservice."
I had found my story. Thank you, Lomas.
"There is no question in my mind that we're going to win this game," he said. "It is just a matter of how much we are going to win it by and how long it is going to take."
I thought perhaps the big tackle was joking around. Surely, an 11-year veteran like Brown knows better than hand a playoff opponent that kind of bulletin board material. Right?
"I'm serious," Brown said firmly, "and you need players who will talk like this. You need guys who will say, 'By the end of the first quarter, we want to have this game over with.' And that's how it should be.
"I'm not being boastful, I'm just very confident. I have no doubt we're going to beat this team. If (the Eagles) want to take it like I'm being overconfident, fine, they can take it that way. I know the talent we have on our team. We have an offense that nobody can stop."
I was writing the quotes down in a hurried shorthand making sure I got every word. This wasn't quite Joe Namath guaranteeing a victory in Super Bowl III but it was pretty close. I called the Daily News to let them know what I was writing.
"You're writing Barry Sanders, right?" the editor said.
I told him I had something better. I read back Brown's quotes. "Wow," the editor said shouting across the newsroom, "We have a new lead story."
My story was, indeed, the lead in the next day's Daily News. The headline said Lomas Brown "guarantees" a Lions victory. Rhodes seized on it immediately. He posted the clipping in the locker room and used it as a rallying cry. Like most coaches, Rhodes liked to play the no respect card and Brown had given him all the fuel he could possibly need to get the Eagles ready to play.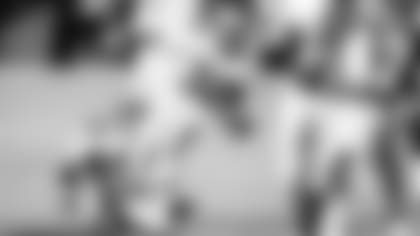 The Lions walked into the Vet unaware of the hornet's nest that awaited them. They didn't know a Philadelphia reporter was there the day Brown made his comments and they didn't know his words were plastered all over the Eagles' locker room.
They found out soon enough.
The Eagles scored 31 points in the second quarter, including a touchdown on a Hail Mary pass from Rodney Peete to wide receiver Rob Carpenter on the final play before halftime. The Eagles opened a 51-7 lead as the Vet Stadium fans chanted, "Lo-mas, Lo-mas ..."
The Eagles had six interceptions and two sacks of quarterback Scott Mitchell. The 58 points scored was a franchise postseason record. The game was so one-sided Fred Barnett (eight catches, 109 yards) admitted getting bored. "At the beginning of the third quarter I just wanted the clock to keep running," he said.
Rhodes enjoyed rolling up the score and reminding everyone of Brown's words.
"If he had been a two- or three-time Super Bowl champion, I could understand it," Rhodes said after the game. "But if you haven't been there, keep your mouth shut. Don't go around guaranteeing (stuff). We're not going to let anybody do that."
Rhodes saw me and smiled. He pointed to the clipping of my story which was still on the locker room door.
"I owe you a game ball," he said.
I told him as a reporter I couldn't accept it. I had a suggestion though.
"Give it to Lomas," I said.
An award-winning writer and producer, Ray Didinger was inducted into the Pro Football Hall of Fame in 1995. He has also won six Emmy Awards for his work as a writer and producer at NFL Films. The five-time Pennsylvania Sportswriter of the Year is a writer and analyst for NBC Sports Philadelphia. Didinger will provide Eagles fans a unique historical perspective on the team throughout the year for PhiladelphiaEagles.com. You can read all of his Eagles History columns here.