Most football fans know Bud Grant as the stoic head coach who led the Minnesota Vikings to four Super Bowl appearances. Even the most rabid Eagles fan probably is unaware that Grant began his NFL career in Philadelphia as a player.
On December 7, 1952, Grant became the first Eagles receiver to crack the 200-yard mark in a single game. He had 11 catches for 203 yards and two touchdowns in a 38-21 rout of the Dallas Texans. Yes, that was an NFL franchise. More on that later.
Grant is a fascinating story. He was a three-sport letterman at the University of Minnesota. The Eagles selected him in the first round of the 1950 NFL Draft but the Minneapolis Lakers also chose him in the NBA Draft. The Eagles offered him $7,000 to sign which Grant felt was an insult so he signed with the Lakers. The 6-3 Grant played two seasons with the Lakers and teamed with the great George Mikan to help the team win back-to-back NBA championships.
"At that point, I felt I had gone as far as I could go in basketball," Grant said.
So he signed with the Eagles in 1951. He played his first season at defensive end and led the team in tackles. The following year, coach Jim Trimble switched Grant to offense and he led the team with 56 receptions and seven touchdowns. He was so good Trimble moved Pete Pihos, an All-Pro receiver, to defense to clear the way for Grant.
"Grant is deceptive," Trimble said. "He seems to glide until he gets the pass and then he's a terror. He has developed a good fake and can twist and turn like (Green Bay's) Don Hutson."
Quarterback Adrian Burk offered a similar scouting report: "From playing basketball, Bud has great hands and with his height he has a deceptive stride. He always seems to be open."
Grant led the NFL with 997 receiving yards, an average of 17.8 yards per catch. He set a club record with 186 yards against the Chicago Cardinals on November 30 and broke the record the following week with his 203-yard game against the Texans. That mark stood until 1961 when Tommy McDonald put up 237 yards against the New York Giants.
"There is no telling how good this young man can be," Trimble said as the 1952 season wound down. "He has played more basketball than football so he's just scratching the surface of his ability. He's on his way to being the best receiver in the league, I really believe that."
There was one complication.
Grant played the season without a contract – he was still unhappy with what the Eagles were offering – but he was confident enough in his ability that he felt he would play well and the front office would have to give him a big raise. He was one for two. Yes, he played well but the club offered what amounted to a token raise of $1,000. Grant was furious.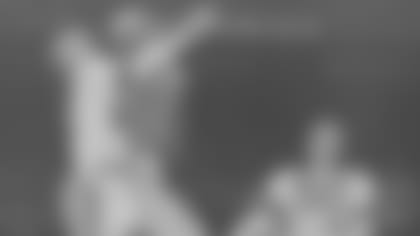 In his book, Bud: The Other Side of the Glacier, Grant wrote: "I thought I was worth more than that. (The front office) said I couldn't make more than the veterans. I asked why. The answer was, 'You just can't.' I told them I couldn't sign. They told me if I didn't sign, I couldn't play in the Pro Bowl. I told them what they could do with the Pro Bowl invitation and their contract offer."
Because he played the season without a contract, Grant was a free agent which meant he could sign anywhere. He opted to sign with Winnipeg of the Canadian Football League. He played four seasons with the Blue Bombers and led the league in receiving three times. In 1957 at age 30, Grant was named head coach in Winnipeg and four Grey Cups later he was hired as head coach of the Vikings where he won 168 regular- and postseason games. He was inducted to the Pro Football Hall of Fame in 1994.
Grant is a landmark figure, the first NFL player to play out his option. It took a lot of courage because there was no Players Association back then and no one even talked about free agency. Most players in the 1950s were underpaid but they didn't buck the system. Sure, they would grumble but ultimately they would sign the contract. Grant was an iconoclast. He demonstrated that by playing basketball before joining the Eagles. He demonstrated it again by bolting the NFL for Canada.
"You have to do what you think is right," Grant said. "We didn't have agents like the players today. We didn't have lawyers handling our business. We handled our own business. I loved playing football and I liked my teammates in Philadelphia but I knew what I was worth and it was a heckuva lot more than what the Eagles were offering. I had a better offer in Canada, so I took it. I'd do it again."
Back to the Dallas Texans. The team only existed for the 1952 season. It was actually a franchise that started as the Boston Yanks in 1944 and went bust, moved to New York and changed its name to the Bulldogs then the Yanks, went bust again, and moved to Dallas. The team bombed out there and by midseason the league had taken control of the operation and moved it to Hershey, Pennsylvania, although no one knows why. The Texans played their final five games on the road. The team was dissolved after the season but the better players – including future Hall of Famers Gino Marchetti and Art Donovan – were assigned to the Baltimore Colts where they helped that team win two world championships.
An award-winning writer and producer, Ray Didinger was inducted into the Pro Football Hall of Fame in 1995. He has also won six Emmy Awards for his work as a writer and producer at NFL Films. The five-time Pennsylvania Sportswriter of the Year is a writer and analyst for NBC Sports Philadelphia. Didinger will provide Eagles fans a unique historical perspective on the team throughout the year for PhiladelphiaEagles.com. You can read all of his _Eagles History columns here_. He is also the author ofThe Eagles Encyclopedia: Champions Edition which is in bookstores now.