DeSean Jackson is off to the best start of his NFL career. Through three games, he is on pace to break Mike Quick's single-season franchise record for receiving yards (1,409 in 1983). With 359 yards in the Eagles' first three games, Jackson has played a pivotal role in the team's offense. As Jackson now prepares to improve those numbers against the Denver Broncos, he knows that an old friend is waiting for him.
Denver Broncos cornerback Dominique Rodgers-Cromartie played for the Eagles from 2011-12 after being acquired in a trade with the Arizona Cardinals. Though he never quite lived up to expectations as an Eagle, Rodgers-Cromartie has been playing well in his first season as a Bronco, and Jackson knows that the individual matchup between the two will be a lot of fun.
"I'm sure that he will probably be on me," said Jackson, who beat Rodgers-Cromartie for a 62-yard touchdown in the 2008 NFC Championship Game. "He's a good friend of mine. We have a pretty good relationship. The past two years, we've been going at it a lot and I know him probably as much as he knows me. It will be a great opportunity for both of us to go out there and compete against each other at a high level.
"Overall, he's a good corner. In this league, he's probably one of the top guys at his position. (He has) speed, agility, quickness and things like that. I definitely have to stay on him and pressure him in a way where he feels threatened that I might go down the field or burst off the ball and have him think I'm going off and then just stop. Whatever it is, in my mind I know what I have to do to get it done, and like I said, I've faced him plenty of times so I'm very familiar with him. … We'll get after it a little bit."
According to Jackson, the two have remained close even after Rodgers-Cromartie signed with Denver. Though the pair often provided entertaining one-on-one battles in Training Camp and practice, Jackson knows that it will be all business on Sunday afternoon.
"I haven't talked to him yet this week, but I talked to him a couple of weeks (ago)," said Jackson. "I probably will (talk to him) and mess around with him a little bit.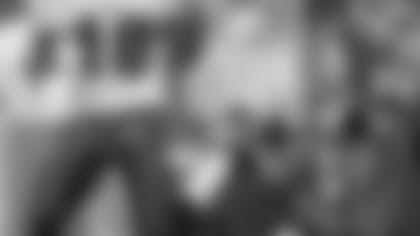 "I played against him before he came here too, when he was with Arizona. It will be a challenge for both of us. He's a good player and I'm a good player so we'll go out there and fight and battle or whatever the case may be. At the end of the day we're friends, but once the game starts I have to do what I need to do to win that game."
The Eagles players are not the only ones familiar with the speedy cornerback. Defensive coordinator Bill Davis held the same position in Arizona when Rodgers-Cromartie was a first-round draft pick in 2008.
"Dominique was a young player," said Davis. "He was a rookie. He was very quiet actually when we had him. He was trying to find his way through the NFL. (He is) very quick, very explosive. Probably the best burst of any corner I've been around. (He has) great ball skills. Dominique as a young player was exciting to coach and fun to be around."
Offensive coordinator Pat Shurmur game-planned against Rodgers-Cromartie and the Eagles last season as the head coach of the Cleveland Browns. He expects to see the Broncos deploy Rodgers-Cromartie against Jackson.
"I anticipate that they'll play against each other, at least a portion of the game," explained Shurmur. "(Rodgers-Cromartie) is one of the outstanding talents in this league. He runs extremely well. He can get in your hip and run with you. He's got outstanding ball skills. All of the same things that he had before he went to Denver, you still see on tape."
Jackson and the rest of the Eagles are looking to get back on track after a disappointing performance against Kansas City in which the offense scored just 16 points and turned the ball over four times. Pitted against the high-powered Denver offense, Jackson believes that the Eagles will be successful as long as they play smart. 
"We know what's at stake this weekend with going into their home field after they had a heck of a game on (Monday) night and in their previous two games," Jackson noted. "As an offense, we basically feel that we have to go battle-for-battle with them and be able to score as many points as they can and hopefully more. … We've always had the mindset that as long as we don't hurt ourselves and we play at a high level, it's really upon us. I don't think it's something that anybody's doing to stop us, it's just us stopping ourselves. As long as we can go out there and not have the bonehead plays and penalties and turnovers, then I think we should be all right."