LANDOVER, Md. --"I felt like I was kid in a sandbox, honestly."
DeSean Jackson knew that he would have fun in Chip Kelly's new offense, and for the sixth-year wide receiver, that fun started early and was sustained throughout the Eagles' 33-27 victory over the Washington Redskins. The Eagles came out firing on all cylinders, as Jackson finished the night with seven receptions for 104 yards, including a 25-yard touchdown strike.
"It shows how much hard work we've put in all offseason and coming into Training Camp," Jackson said after the game.  "(Us) coming out, being able to show high intensity and go up and down the field so easily was a great opportunity for us. At the same time, we made mistakes but we were able to go out there and do some great things too. I'm just excited about how far this team can go as long as we protect the ball and stop shooting ourselves in the foot with turnovers and things like that."
The Eagles pushed the tempo throughout the first half, running almost exclusively without a huddle. Jackson was pleased with how the offensive unit responded to the quickened tempo, and knows that they will be tough to beat if they can continue to dictate the pace.
"We were like 'Come on, let's keep going' because we worked so hard and practiced so hard to stay at the high tempo," Jackson said. "During practice we run like 100-plus plays. It was a long first quarter and I think in the first half we had it close to 60 plays so we're prepared and we're ready to go… Second half we slowed it down a little bit and we weren't able to get things going like we had in the first half, but as long as we're able to not take our foot of the pedal and continue to do great things, I think the sky's the limit for this team."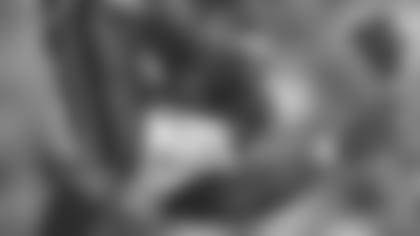 Jackson has long been known as a vertical threat, but the speedy receiver's longest catch against the Redskins went for only 26 yards. Jackson has spoken recently about wanting to become a better all-around receiver, and he was able to practice what he has preached on Monday night.
"I thought (we did) a great job," Jackson said. "I was able to get the ball in my hands. A lot of times in the past couple of years, teams were so afraid of me beating them down the field, but a lot of my catches were underneath and short routes. I was able to catch some balls around the middle and then try to break them for a long (gain). I'll do whatever I need to do to help my team win games and create big plays and spark them up with energy. That's something that I look forward to."
That the Eagles were able to get Jackson so involved on Monday night speaks to the balanced nature of the offense, especially on a night when the team ran the ball 49 times. No one was less surprised by Jackson's impact than the Eagles' leading rusher on the night.
"There's not a wide receiver out there, including Mike Wallace, who is a better deep-ball threat than DeSean Jackson, with talent," said LeSean McCoy following the game. "You find guys all the time who are just fast. But DeSean is fast and he has tons of talent. So when guys are going to start bringing extra guys in the box … and when teams start to do that with stunts and bring extra safeties down, they have to watch out for DeSean up top. Mike (Vick) has an amazing strong arm to get it out there and DeSean, we've seen it for years, it's going to be tough for guys."
The Redskins entered the season as the defending NFC East champions, and are thought of by many to once again be the favorite in the division. Jackson knows that last season is in the rear-view mirror, and that he and the rest of his teammates are only looking ahead.
"They're a great team," Jackson explained. "They came back. They didn't give up. They did some great things within the game to continue to go out and keep pressuring us, but last year was last year. This is 2013 and this is a whole new year. We want everybody to know that we're a serious team. Everybody's been kind of counting us out, thinking that we're underdogs and things like that, but I feel great and confident with the guys in our locker room.
"We all came down here on the train together, we're all one team together, and we went on the field and played like one team. As long as we're able to do that every Sunday, or Monday or Thursday or whenever we play our games, then I think that this is a team that could end up in the playoffs and hopefully take it all the way."