There are hints, like his emphasis on getting down to 260 pounds and talk about the possibility of playing in space. But Brandon Graham says the truth is, he's still not sure exactly what's in the plans for him as he and the rest of the Eagles transition into a new defensive scheme under coordinator Billy Davis and head coach Chip Kelly.
"There's been a lot of talk around a lot of things, but I don't really know where they want to put me," Graham said following his first official workout of the offseason at the NovaCare Complex. "All I know is wherever they put me, I'm going to go full-out."
Entering his fourth NFL season after he was selected 13th overall by the Eagles in the 2010 NFL Draft, Graham is coming off his best season as a professional, during which he notched a career-high 5.5 sacks. But those numbers understate how effective he was as a pass rusher in 2012. Add on 27 hurries to those 5.5 sacks and you begin to get a better idea of his constant presence as a threat to the quarterback, keeping in mind that he only started six games. To truly get a sense of his efficiency as a pass rusher last year, consider that according to ProFootballFocus' generally reliable statistics, Graham accumulated the third-highest score as a pass rusher of all 4-3 defensive ends, despite playing only 435 snaps. That's over 300 fewer snaps than any other player listed among the top-10 pass rushers last season.
That was last season, though, and this is a new regime. Graham has heard the suggestion that he may be on tap for a move to outside linebacker in a 3-4 scheme, or at least that he'll be asked to rush from a stand-up position at times. The presence of separate linebackers coaches for outside and inside linebackers and the addition of former 3-4 players like Connor Barwin and Isaac Sopoaga certainly suggests that there is at least some transition in play. But because of Collective Bargaining Agreement rules, Graham was unable to discuss anything football specific with his coaches until yesterday, and there hasn't been much time to unpack schematic philosophy.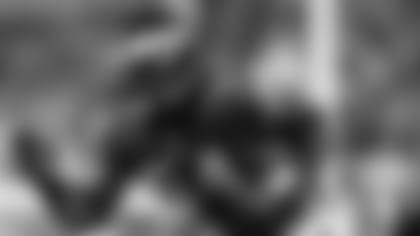 So for now, Graham is preparing for anything.
"I'm just excited because I don't know if they really know what I can do and I know what I can do and I can't wait to show them this year," Graham said. "I'm excited about if I'm going to stand up or not. If I stand up, that's cool, you can see more of the field and be able to drop and catch interceptions and stuff. I want to show that part of my game if I do do that."
Partly in preparation for what may lie ahead, Graham is hoping to get his weight down to 260 pounds from his current 270. He's not fully alone in that regard.
Trent Cole "got down his weight so he'll be able to cover and be able to play in space," Graham said. "That's the biggest thing for us, because we know we can rush the passer, but we just have to make sure that when we start dropping that we know what to do."
This isn't the first time that Graham has been expected to become a stand-up pass rusher. Throughout his pre-draft process in 2010, there was a school of thought that he would fit best in the NFL as a 3-4 outside linebacker. The Eagles ended that speculation when they traded up to select the former Michigan defensive end, but Graham's versatility as a pass rusher means that it's a possibility once again.
Throughout a busy offseason that has included taking classes to finish his degree at Michigan, Graham has been preparing for a possible move to outside linebacker by picking the brain of a fellow Wolverine – Pro Bowl Steelers linebacker LaMarr Woodley, who trains alongside Graham and who also was a defensive end in college.
"He told me it's going to be a new terminology and everything that you'll probably have to get used to, if that's where I'm going to be, if I'm going to be at linebacker," Graham said. "He just was saying, just make sure you go all out and don't let them say your effort is not good."
The initial reason that some thought Graham would fit best as an outside linebacker is his relative lack of height. At 6-2, Graham is considered slightly below average size for a defensive end, though he proved the unimportance of that last season. Tuesday, Graham was asked about once again overcoming the under-sized stigma, this time in relation to Kelly's perceived preference for taller players.
"If I make plays and I do what I'm supposed to do, I think all that will probably change," Graham said with a smile. "I've been talked about all the time, me being undersized, but I'm here today and all I can do is go hard and everything else will pretty much take care of itself."