When the Eagles signed Darren Howard as free agent following the 2005 season, he reported to the team weighing 275 pounds.
Over his first six years in the league with the New Orleans Saints, he averaged more than seven sacks a season and recorded as many as 11 sacks in two different seasons. So the Eagles believed they were getting a double-digit sack monster for years to come.
Over the course of the next two seasons in Philadelphia, however, Howard notched just six sacks total, including just one in 2007 and he lost his starting job to fellow defensive end Trent Cole.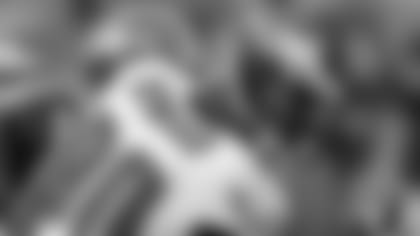 Howard led the Eagles with 10 sacks in 2008
On the cusp of being labeled a bust, Howard rededicated himself and came into training camp this past season 15 pounds lighter. He also found himself in a new role, one where he would rotate between playing defensive end and defensive tackle on obvious passing downs.
He parlayed that into his best season as an Eagle, recording a team-high 10 sacks despite not being a starter. That better-late-than-never production helped the Eagles defense rise to become the NFC's best heading into the playoffs.
"We did a lot of great things on defense," Howard said. "We brought in a couple of guys and our linebackers played real well. It's kind of a group that they just really put together and you didn't know how they were going to perform and they did a great job."
The same thing could be said about Howard; heading into training camp, the Eagles had little idea what they were going to get from him. Howard, however, had something in store for the coaching staff.
At the end of last season, Howard spent a month looking for the right gym before starting a workout regiment that gave him a solid foundation for a breakout season. He boxed, lifted, played basketball and took mixed martial arts classes in hopes of improving his overall physical conditioning.
Let's just say the plan worked swimmingly.
"If I'm going to do something, I'm going to do it well," said Howard early in the season. "I'm not really going to waste my time if I'm not doing well. I just wanted to make sure I came back in the best possible shape. Time on the field in this career is real short. You have to take advantage. I'm not going to do something just to waste time."
From 2005-2007, Howard garnered 9.5 sacks, which tied him for 107th in league. His 10 sacks in 2008 ranked him 12th in the NFL and it was good enough to rank sixth in the NFC. He also had the most sacks of any player not to start a game in the league.
Meanwhile, he helped the Eagles defense significantly improve their pass rush. The defense only recorded 35 sacks in 2007, compared to 48.5 sacks in 2008. That kind of pressure helped the defense develop into one of the best in the NFL. Howard hopes to see more of that from the beginning of the 2009 campaign.
"I think we really have to concentrate on some consistency, knowing who we are early and sticking to that and playing well all year," Howard said. "That's something we didn't do early. We did it in spurts. We really pulled it together at the end of the year. Hopefully, we can be a little more consistent next year."
Overall, Howard quietly did an outstanding job providing production in limited playing time. While he was happy with how the defense came together at the end of the year, he knows it didn't end they way they wanted, which was with a Super Bowl title.
"I think the team deserves a lot of credit for clawing back at the end of the year, getting to the playoffs and winning a couple of games in the playoffs," Howard said. "All around, we're pretty young. We'll see what happens here. We'll see if we can keep this momentum going."