On the day that the Eagles announced they will retire former quarterback Donovan McNabb's jersey number, two of No. 5's former teammates - safety Brian Dawkins and running back Brian Westbrook - shared their memories of the greatest quarterback in franchise history.
Westbrook exalted not only McNabb, the player, but also McNabb, the person, who took the running back under his wing when he was still at Villanova.
"My part here is definitely to let you guys know, (McNabb is) one of (my) best friends around the game," Westbrook said. "I've known Donovan since me and Roxie (McNabb's wife) were at Villanova when she was working. He's been a great friend from that day, when I was still in college, when some little kid at Villanova had no meaning to anyone and Donovan was the upstanding man that he is today. If I called him and needed him, he'd answer the phone then. He still answers the phone now."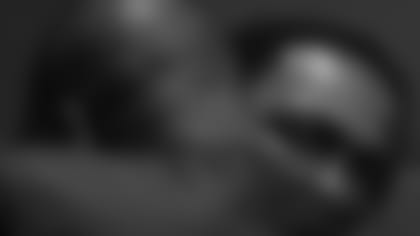 Westbrook thanked McNabb for the opportunity to "allow me to share the football field with you."
Dawkins followed with a speech that urged fans to remember what McNabb did for this franchise, and what it was like before he arrived.
"I just so happened to be a guy that was here in Philadelphia before Donovan got here," Dawkins said. "I remember the times. I remember what those feelings felt like before (McNabb) got here. I remember those seasons - you know how it was, you know what I'm talking about. And when he got here, how quickly this thing went on the upswing. And if you look at all the things he was able to do - sometimes when I'm at home now I go and work out up in the gym and I put in some of the old tapes, and I watch how we put it down, and I say 'we' because Donovan was a huge part of that."
Most of all, however, Dawkins emphasized the type of leader McNabb was, and how he resonated with the team.
"(McNabb) kept everything light for us. Joking around, keeping everything loose so we could go out and play loose on the football field," Dawkins said. "But the thing that people don't understand is the type of leader that he truly is and what he brought to the football team because I knew when I stepped on the football field, I knew that I was going to get 110 percent from my quarterback, and he was going to give everything that he could."
Dawkins cited McNabb's four-touchdown performance on a broken ankle in 2002 as a testament to the quarterback's "character" and "determination."
"It was a pleasure going to war with you," Dawkins said. "It was a pleasure going out and playing the game the way we that we played it because we enjoyed doing it and we did it at a high level for so long. ... I appreciate the way you played, the man that you are and I thank you. It's a pleasure to call you a friend. I love you, brother. Thank you."