Not one to hide his emotions on or off the field, Brian Dawkins had some heartfelt words at the end of his press conference Saturday.
He spent almost an hour after practice signing autographs for fans and the 13-year veteran did not leave until there were smiling faces all around.
Later, while talking to reporters, he answered a simple enough question about how satisfying it was for Dawkins to spend the extra time on the field for fans with a sincere and touching answer.
"This is the last year on this deal for me, and if this is my last ride I want to make sure everybody is very happy with the outcome of the season. Whether it is signing autographs or holding up that trophy in the end," said Dawkins.
Regardless of his future though, Dawkins is obviously relishing every moment in the present. The last time he remembers being this excited for a season was 2004 - the year he and the Eagles made it to the Super Bowl.
"I am very excited about this year, and those are not just words," he said. "I'm just really jacked up. I was a little bit too hype at the beginning of practice. I had to really calm down because I was just so excited to be out on the field, feeling healthy. I am anticipating a very good season and having a good time with the fans. That's all a part of training camp."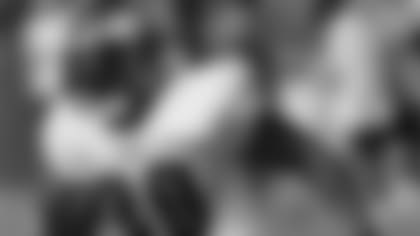 FS Brian Dawkins
Training camp for No. 20 is a more enjoyable event than for most players. Or maybe he is more honest about it.
"It's just an exciting thing," Dawkins said. "For as much as we say we don't like it …On the other end, you really, really enjoy putting the first day of pads on."
Dawkins may be so enthused because he is far more focused and prepared for football this year as opposed to last year. He said on a scale of one through 10, if he is a 10 right now at this time last year he was only a five.
"It's not even a comparison. Not even close." he said. "My whole mindset, physically, mentally, spiritually, everywhere was all on a different page last year so my concentration (this offseason) was fully on football, training and getting my body back in shape to be whatever I need to be for this defense."
What this defense needs him to be is the heart and soul, the backbone, as he has been for over a decade. He is the wise captain that can still be as physical as anyone who plays the game, no matter how old he is. Dawkins is not shy or ashamed of his age. It's like a badge of honor almost.
"I'm 34," he shouted. "And I am happy to be 34. When I get out on the field, I don't know what a 34-year-old player is supposed to play like. So that's not in my mindset. All I know is if the ball is in the air, I got to get it. If a big hit needs to be made, I got to make it. If I have to go through somebody to get to the quarterback, I got to do it."
But as a member of the "30-Plus Club," Dawkins gladly welcomes the time off. It is not all up to him to make things happen for the defense anymore.
The potential for the defense to make plays with the talent of the secondary and the improved speed of the linebackers is tremendous, according to Dawkins. And any negative criticism that the six-time Pro Bowl player hears about his age, his defense or the Eagles offense just fuels the team's fire to turn that potential into production.
Dawkins believes the Eagles had many successful seasons during his career simply because the team "felt good about one another."
"We felt good about the camaraderie, we felt good about the coaching staff and we felt good about the direction we were going," he said. "I think we feel that same way now."