With the loss to the Cardinals still fresh in his mind, head coach Andy Reid declined to delve into the issue of free agency at his season-ending press conference on Monday.
But that was clearly on the minds of some players who may have walked out of the Eagles' locker room at the NovaCare Complex for the last time after cleaning out their lockers that same day.
Free safety Brian Dawkins, offensive tackles Tra Thomas and Jon Runyan and running back Correll Buckhalter are just four of 10 potential free agents the Eagles will have to address during an offseason that started two weeks too soon.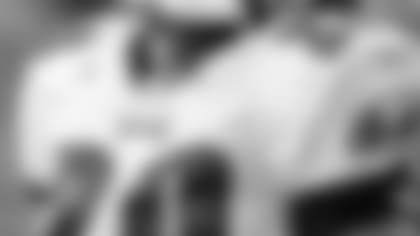 Dawkins is one of 10 players scheduled to become a free agent
"On a positive note, we have a good nucleus of players under contract who will be returning," Reid said. "The free agents, we have not addressed that at this point, so it's a null point to even go in that direction during this press conference. I will address that after we settle down from this game."
Following Sunday's loss, Dawkins was asked what the future held for him. He sounded like a player that expected to be wearing midnight green in September.
"I don't know, but I've said it; I don't have too many doubts in my head that say I won't be back here," Dawkins said. "Everything that I'm thinking is just positive that I'll be back."
The situation at tackle is a bit different, though. This isn't the first time Runyan has been a free agent in Philadelphia. He said he was close to leaving three years ago. Runyan and Thomas have started 134 regular season games together, the most by a tackle tandem in NFL history.
However, Runyan is starkly aware of the business side of the game.
"You prepare yourself for that," Runyan said. "I prepared myself for that three years ago. So it's not anything I haven't been through. It'd be nice to stick around, but if I got to go, I got to go. I still do it better than most. Let's hope everybody else agrees with that."
Runyan said he hopes his performance in 2008 has made it a difficult decision for the front office.
"I don't worry about that type of stuff," Runyan said. "You do what you can, make their job hard. If their job is easy, that means it's time for you to go."
For Thomas, the wound of the loss to Arizona was too fresh to contemplate his future.
"I really can't worry about that right now," Thomas said. "It'll take care of itself now. We'll just wait and see. Right now, we'll just wait and see what happens."
Buckhalter, however, finds himself in a unique situation. He missed three seasons due to various knee injuries, so he doesn't come with the mileage that a back that has been in the league for eight years normally would.
That could play a big factor on whether or not he remains an Eagle.
"The years that was out with the knees has allowed me to kind of be fresh in a sense," Buckhalter said. "I think that plays a part in my favor."
But Runyan summed up how most free agents feel about coming back to a team that was two wins away from accomplishing the ultimate goal.
They all want to be a part of the team next season, "but anything can happen."