Brian Dawkins understands the criticism, but that doesn't necessarily mean he wants to hear it.
Yeah, he's 34. He was beaten on a couple of plays last week in Dallas. He might not be the exact same "Weapon X" offenses feared six years ago, but he felt he still had enough to lay claim to the moniker.
So instead of hearing again how he had lost a step, Dawkins opted not to take one at all.
Late in the fourth quarter Sunday with a close game on the line, Dawkins victimized Steelers quarterback Ben Roethlisberger with a leaping strip, sack and fumble recovery, a transition between the three as seamless as Clark Kent tearing open his oxford in a Metropolis phone booth.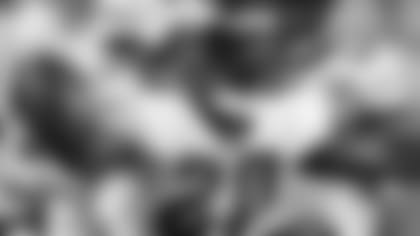 Time to celebrate!
The play was absolutely vintage Brian Dawkins, a 34-year old bottle of wine on which the cork popped again to offer a taste of the contents still aging with honor. But it was the coup de grace on an eight-course meal for the Steelers, whose appetite was quite spoiled after the first seven sacks of Roethlisberger. And to top even that, Roethlisberger left the game at that point, not simply overstuffed, but with a hand injury, too.
And for Dawkins, the bottle wasn't yet emptied before Sunday, and he doesn't seem to think it will be in the near future.
"I play the way I play," Dawkins said. "I don't know what a 34-year old is supposed to feel like or play like. I just know that I had to get to Ben, he was scrambling, and I had to make the play to do it."
Dawkins flew all around the field Sunday, in on multiple blitzes of Roethlisberger, and he provided tight coverage on Pittsburgh wideout Nate Washington on a fly route, allowing Asante Samuel to make his second interception as an Eagle. It was the first – and only – time the Steelers took a legitimate shot down the field.
The most impressive aspect of that play for Dawkins might not have been what he did, but what he didn't. He narrowly managed to avoid contact on what would have almost certainly drawn a face-guarding pass interference call had he done so. Instead of Pittsburgh receiving vital field position deep in Eagle territory in a game predicated on it, Dawkins and Samuel put the ball back in the Philadelphia's hands.
But for Dawkins, this game will be most remembered for the time he got it in his, charging off the field knowing he had just about secured a pivotal victory for his now 2-1 squad.
"That's the Dawkins we all know," defensive coordinator Jim Johnson said. "He had a great week this week, and it was good to see him come back. He's a good football player."
For at least another week, people will know it. Dawkins made his name on highlight-worthy plays more representative of a pro wrestler, or some of a predatory cat.
Chalk this one up as another one to be remembered.
"You don't think. You just do it," Dawkins said. "There's not a lot of times in football that you can think ahead of time and say, 'You know what? If this happens, if that happens, I want to do this.' No. … The next thing I knew, I was in the air."