Before inspiring and serving the greatest football community in the world, Cristian Narino Garcia served his adopted country.
In 2013, Garcia moved from Colombia to Jacksonville, Florida. Just two years later, he had enlisted in the United States Air Force.
"It was a great opportunity to give back to the country that welcomed me with open arms," Garcia said.
In March of 2015, Garcia started basic military training. He credited his support system in Jacksonville, who helped him learn English, as the ones who inspired him to join the forces.
The Eagles' Facility Operations Coordinator learned everything about services and operations, including culinary services, facility and lodging operations, fitness operations, and search and recovery, becoming a Swiss Army knife for the Air Force.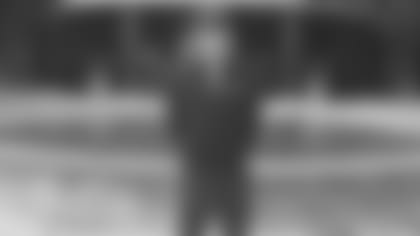 In his four years of active duty, Garcia was stationed at Tyndall Air Force Base near Panama City, Florida.
Garcia was deployed twice, in 2017 and 2018, to the United Arab Emirates during Operation Inherent Resolve. After his second deployment, Garcia left active duty and joined the Air National Guard.
While deployed, Garcia started looking for schools where he could receive his bachelor's degree. He came to Philadelphia after being accepted into Temple University. During his time at Temple, he was promoted to Staff Sergeant. Garcia's focus in his new role was on fitness, logistics, and administration.
"Making sure people are ready is a huge thing in the military," Garcia said. "I needed to make sure everyone was ready to deploy within 24 to 72 hours. Ensuring the fitness standards were met and paperwork was correct was a big component."
During the pandemic, Garcia and his compatriots at the Air National Guard were activated by the State of Pennsylvania to support mortuaries.
Garcia is still an active member of the Air National Guard, spending one weekend every month and one to two weeks every year training with other reserves.
In 2019, just two months after moving to the City of Brotherly Love, Garcia was hired to work in retail at the Eagles Pro Shop at Lincoln Financial Field.
Garcia credited Director of Merchandise Emily McNichol and Senior Manager, Merchandise Tim Crouch as the two people who played big roles in his early days with the Eagles.
"Emily and Tim are great people," Garcia said. "They were really helpful during my time working in merchandise and continue to be to this day."
In 2022, Garcia was hired as the Marketing Entertainment Teams Seasonal Associate. He would accompany the Eagles Drumline, Cheerleaders, and SWOOP to various appearances and events.
After his time as an associate, the company took note of Garcia's hard work and dedication, offering him a full-time role as the Facility Operations Coordinator at Lincoln Financial Field and the NovaCare Complex.
Garcia and his colleagues work together to set up events, create and complete innovative projects, and make sure everything is running smoothly at Lincoln Financial Field and the NovaCare Complex.
"In the military, you have a circle of people around you that will help and support you," Garcia said. "It is the same thing here at the Eagles, a team effort. I have certain tasks that people rely on me to complete and I complete them in the best way I can."
Garcia has been an outstanding representative for the Eagles organization as he continues to give back to his community and country in the Air National Guard.
Before the Week 7 game against the Dolphins, Garcia was surprised by Eagles President Don Smolenski who alerted Garcia that he would be the Eagles' NFL Salute to Service Award nominee.
"We are proud to nominate Cristian for the NFL's Salute to Service Award," Smolenski said. "Over the course of his decorated military career, Cristian demonstrated an unwavering commitment to his country and fellow service members. He is a valuable member of our team and it is our privilege to recognize Cristian for his service."
"I was very surprised, but I am thankful for the nomination," Garcia said. "I love my job; I am not doing it for any recognition. I appreciate the opportunity. It was special, especially with my family there, who I rarely see."
Garcia's mother and brother were in attendance for the touching moment; however, it was not planned. The two are big Eagles fans and were already coming to the game. Knowing that they would be in attendance for the Kelly Green game, the organization made them aware of the nomination.
The Salute to Service Award presented by USAA acknowledges the exceptional efforts by members of the NFL community to honor and support U.S. service members, veterans, and their families.
The NFL's Salute to Service initiative is near and dear to Garcia's heart.
"I am always thinking about the people who I served with, the people who made the ultimate sacrifice, and my friends who are still deployed," he said. "I am thankful for initiatives like Salute to Service because it shows appreciation to veterans." - Written by Owen Boyle