Regardless of what happens earlier in the day, the Dallas Cowboys will walk into Lincoln Financial Field on Sunday in control of their own destiny.
If they win their regular season finale against the Eagles, they will qualify for the playoffs.
Considering the fact that the Cowboys haven't won their regular season finale since 1999, however, that task is a bit tougher than it looks on the surface.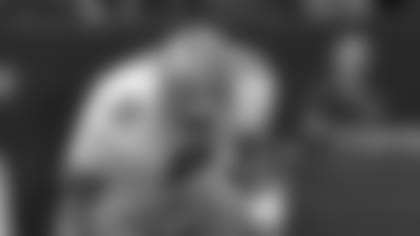 This Tony Romo fumble led to an Eagles touchdown back in Week 2
Since Tony Romo took over for Drew Bledsoe in the 2006 campaign, he's compiled a paltry 5-7 record in games played in the month of December, including an 0-2 mark against the Eagles. Romo's eclipsed 300 yards passing just twice in those 12 games and he's thrown 14 touchdowns against 18 picks. Of the five wins, only one came when he threw more interceptions than touchdowns.
It's something not even Romo's best friend can explain.
"I wish I knew and could put a stop to it," Cowboys tight end Jason Witten said. "I just think you see teams start to play well down the stretch and it's critical that you get back to the basics of controlling the ball, not turning it over, time of possession, all of those things. That's what the good teams are doing. As the season goes on, that's when you have to play your best football."
Obviously, the Cowboys have not.
Last week against the Ravens, in the last game played at Texas Stadium, Dallas had an opportunity to ultimately lock up a playoff spot. Instead, the Cowboys lost 33-24.
Despite that setback, Dallas still controls its own destiny. If the Cowboys win on Sunday, they qualify for the postseason. It's the only thing Dallas head coach Wade Phillips is thinking about.
"We're looking forward to this game and trying to get in the playoffs," Phillips said. "That's all we think about and that's all (owner) Jerry (Jones) thinks about. Some people try to bring your team down by criticizing your coach or getting on your coach saying he's not good enough. Gee, let's see what happens here."
Despite Romo's December woes, Phillips said the team has the utmost faith in its quarterback.
"He's played in a lot of big games," Philips said. "This is really only his second full year of starting, but Tony's been the winning quarterback in a lot of games. We have a lot of confidence in him."
Witten said Romo's ability to block out distractions is something he can rely on to help snap out of his late-season funk.
"I think Tony does a pretty good job of not letting all the distractions and all the outside stuff that goes on really affect his play," Witten said. "We understand how tough a game it's going to be."
Phillips knew that would be the case as soon as the schedule came out.
"I think both (teams) saw it on the schedule and knew it would be a big, big game, as all of them are," Phillips said. "When you make it the last game of the season, you know there's going to be something riding on it because the teams are good teams."