The clock is ticking, Eagles fans.
On April 30th, the NFL Draft will kick off from Chicago, as NFL Commissioner Roger Goodell announces the latest class of NFL talent. To make sure that you're all set for when the Eagles are on the clock for the first time, we're counting down each day with look at each number from 100-1 and the significance that the number holds in Eagles history.
Without further ado, let's continue the countdown … Punter Donnie Jones punted the ball 76 times this season, or about 4.7 times per game. The 76 punts were the fewest Jones has kicked in a single, 16-game season in his 11-year career.
Jones also set an Eagles record and tied a career high with 34 punts inside the 20-yard line, surpassing his previous team record of 33 set in 2013. He set his previous career high in 2009 when he punted for the St. Louis Rams. The 34 punts inside the 20-yard line also tied Arizona's Drew Butler for the NFL lead in 2014. First Eagle To Wear No. 76: E Lester McDonald (1940)
Current Eagle Wearing No. 76: OL Allen Barbre (2013-present)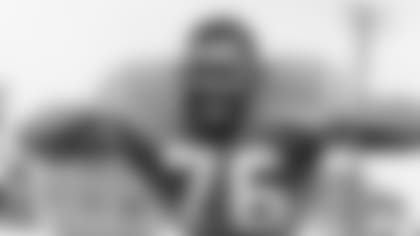 In 1964, the Eagles held the No. 2 pick in the NFL Draft. After the San Francisco 49ers selected end/receiver Dave Parks with the first overall pick, the Eagles chose offensive lineman Bob Brown with the second pick. It worked out pretty well; in his five seasons in Philadelphia, Brown was voted to three Pro Bowls, voted All-Pro three times, and helped the Eagles rank in the top 10 teams in the league in points from 1964 to 1967.
At an intimidating 6-4, 280 pounds, Brown started all 64 games he was healthy for during his five years with the Eagles. After half a decade in the City of Brotherly Love, Brown was traded to the Los Angeles Rams, where he made two more Pro Bowls, and then moved on to the Oakland Raiders for three years before retiring after the 1973 season.
Brown was named to the Pro Football Hall of Fame's All-1960s team, and he was inducted into both the Eagles Hall of Fame and the Pro Football Hall of Fame in 2004.