The clock is ticking, Eagles fans.
On April 30th, the NFL Draft will kick off from Chicago, as NFL Commissioner Roger Goodell announces the latest class of NFL talent. To make sure that you're all set for when the Eagles are on the clock for the first time, we're counting down each day with look at each number from 100-1 and the significance that the number holds in Eagles history.
Without further ado, let's continue the countdown … Though the Eagles defense had trouble limiting big plays through the air, the unit did an excellent job of limiting the run in 2014. As a team, the Eagles totaled 73.5 tackles for loss. Connor Barwin led the way with 17.5, followed by Brandon Graham (13.5) and Trent Cole (12.5). Barwin also led the team with a single-game best of 3.5 tackles for loss, which occurred during the Monday night win over Carolina. First Eagle To Wear No. 73: T Ed Kasky (1942)
Most Recent Eagle To Wear No. 73: OL Wade Smith (2014)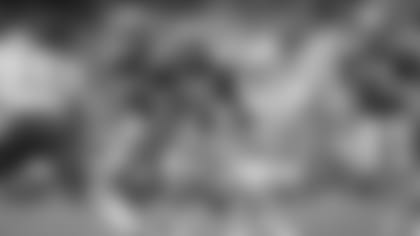 A fourth-round pick of the Tampa Bay Buccaneers in 1984 out of Penn State, tackle Ron Heller joined the Eagles via a trade after the 1987 season. Heller spent time as both a left and right tackle, starting 71 games in Eagles green during his tenure in Philadelphia. He was a key member of an Eagles offensive line tasked with protecting quarterback Randall Cunningham in the early 1990s.
After a five year stint in Philadelphia, Heller played the final three years of his career in Miami with the Dolphins until a knee injury forced him into retirement. In all, he spent 12 years in the NFL appearing in 172 career games.
Once his playing days were over, Heller quickly joined the coaching ranks. His route back to the NFL was a long one, as he spent four seasons coaching in the NFL Europe and the Canadian Football League. Helller broke back into the NFL in 2010 as an offensive assistant with Jacksonville, and he is currently the assistant offensive line coach for the New York Jets.