The clock is ticking, Eagles fans.
On April 30th, the NFL Draft will kick off from Chicago, as NFL Commissioner Roger Goodell announces the latest class of NFL talent. To make sure that you're all set for when the Eagles are on the clock for the first time, we're counting down each day with look at each number from 100-1 and the significance that the number holds in Eagles history.
Without further ado, let's continue the countdown… Brandon Graham forced four fumbles in 2014.
Graham served as a part-time player for the Eagles last season, but he made the most of his time on the field, finishing fourth on the team in sacks with 5.5 and tied for first with four forced fumbles. First Eagle To Wear No. 4: QB Benjy Dial (1967)
Last Eagle To Wear No. 4: QB Kevin Kolb (2007-10)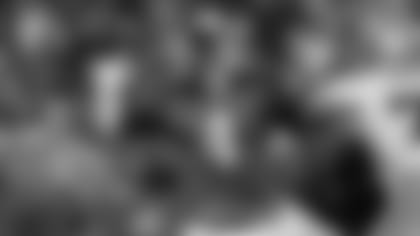 With Kevin Kolb, the question always becomes "What might have been?"
The University of Houston standout was drafted by the Eagles in the second round of the 2007 draft, with many believing him to be the successor to Donovan McNabb. It was clear that he had the talent, but concussion issues ultimately derailed his career.
Kolb set an NFL record by being the first quarterback to pass for over 300 yards in each of his first two starts (against the New Orleans Saints and Kansas City Chiefs in 2009). Kolb lost the starting job to Michael Vick after a Week 1 concussion against the Packers in 2010, but he served as a top backup that season, helping the Eagles win some key games against NFC opponents on the way to a division title.
The following offseason, Kolb was traded to Arizona as the Eagles moved on with Vick at the helm. He was given his chance to start in the NFL with Arizona and then again with Buffalo, but his concussions never let him fully get back on track. Kolb officially retired in 2014.