The clock is ticking, Eagles fans.
On April 30th, the NFL Draft will kick off from Chicago, as NFL Commissioner Roger Goodell announces the latest class of NFL talent. To make sure that you're all set for when the Eagles are on the clock for the first time, we're counting down each day with look at each number from 100-1 and the significance that the number holds in Eagles history.
Without further ado, let's continue the countdown… With the 30th pick of the 1988 NFL Draft, the Eagles selected DB Eric Allen out of Arizona State. The Eagles traded up from 39 to 30 to grab Allen, who was a favorite of then head coach Buddy Ryan. The move paid off big time as Allen made five Pro Bowls in seven seasons with the Eagles. His 34 interceptions remain tied for first on the Eagles all-time list. First Eagle To Wear No. 30: E Nip Felber (1933)
Most Recent Eagle To Wear No. 30: S Colt Anderson (2010-13)
HB Bosh Pritchard (1942-51)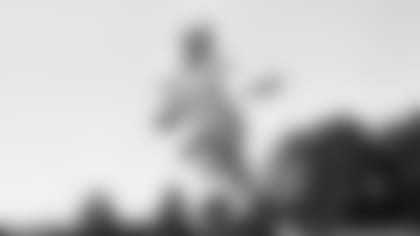 When the Eagles won back-to-back championships in 1948 and '49, Steve Van Buren was the Eagles' biggest threat out of the backfield. But if Van Buren was the thunder, Bosh Pritchard was the lightning. Standing at 5-foot-11, 164 pounds, Pritchard provided a speedy alternative to the 6-foot, 200-pound Van Buren as the pair made for a lethal combination out of the Eagles backfield. In those two championship seasons, Pritchard ran for a total of 1,023 yards and 13 touchdowns, including a 77-yard scamper that stood as the longest run from scrimmage for 30 years.
Also a standout kick returner, Pritchard played for the Eagles from 1942 until 1951, when he was traded to the New York Giants. He was not a very big player, but he was able to make a name for himself as one of the most versatile and elusive players of his time. In other words, Pritchard was the Darren Sproles of his generation.