The clock is ticking, Eagles fans.
On April 30th, the NFL Draft will kick off from Chicago, as NFL Commissioner Roger Goodell announces the latest class of NFL talent. To make sure that you're all set for when the Eagles are on the clock for the first time, we're counting down each day with look at each number from 100-1 and the significance that the number holds in Eagles history.
Without further ado, let's continue the countdown… The Eagles picked up 218 first downs by passing the football in 2014. 109 times (exactly half of that number) the Eagles picked up the first down on the ground. First Eagle To Wear No. 18: QB Porter Lainhart (1933)
Most Recent Eagle To Wear No. 18: WR Jeremy Maclin (2009-2014)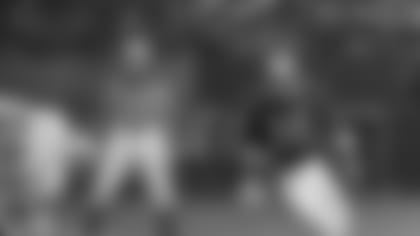 Drafted in the third round of the 1966 NFL Draft, Ben Hawkins' first season in Philadelphia did not go the way that he or the team had hoped it would. The Arizona State product caught just 14 passes while struggling with dropping problems and fumbles. But in 1967, he turned his career around in a big way. The 6-foot-1 receiver from Newark, NJ caught 59 passes for a league-leading 1,265 yards. His 10 touchdown receptions also ranked him third in the league in that category.
Known for playing with his chinstrap hanging down, Hawkins went on to have a very nice eight-year career with the Eagles. His 4,764 receiving yards rank 17th on the Eagles' all-time career list, and his 1,265 yards in 1967 represent the fourth-highest single-season total in team history. He is also tied for eighth on the Eagles' all-time touchdown receptions list with 32.
Hawkins is perhaps best remembered for his four-touchdown day against the Pittsburgh Steelers in September of 1969. Only one other player in Eagles history (Irving Fryar) has been able to match that accomplishment.