The clock is ticking, Eagles fans.
On April 30th, the NFL Draft will kick off from Chicago, as NFL Commissioner Roger Goodell announces the latest class of NFL talent. To make sure that you're all set for when the Eagles are on the clock for the first time, we're counting down each day with look at each number from 100-1 and the significance that the number holds in Eagles history.
Without further ado, let's continue the countdown… The Eagles scored 16 touchdowns on the ground in 2014.
Darren Sproles led the way with six touchdowns, with LeSean McCoy ranking second with five scores. Chris Polk found paydirt four times and quarterback Mark Sanchez also pitched in with a rushing touchdown. First Eagle to wear No. 16: B Sylvester Davis (1933)
Eagle currently wearing No. 16: WR Seyi Ajirotutu (2015-present)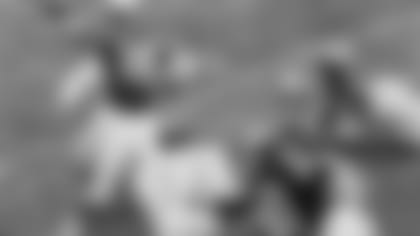 In 1964, the Eagles traded quarterback Sonny Jurgensen in a package deal to the Washington Redskins. Jurgensen had put up some fantastic numbers with the Eagles, but first-year head coach Joe Kuharich shook up the roster by trading Jurgensen. One of the players that the Eagles got in return was quarterback Norm Snead.
Snead was a first-round draft pick out of Wake Forest, but he never panned out in Washington. His playing time was limited over his first few seasons in Philadelphia, but in 1967, after being named the Eagles starter, Snead had one of the best seasons of his career. That year, he threw for 3,399 yards (the 10th highest single-season total in Eagles history) and connected on 29 touchdown passes. Just as it looked as if Snead was reaching his full potential, he broke his leg in a 1968 exhibition game and was never really the same player after.
In total, Snead played seven seasons in Philadelphia before being traded to the Minnesota Vikings following the 1970 season. He would also make stops with the New York Giants and San Francisco 49ers before retiring after his 16th NFL season. Snead's 15,672 career passing yards rank fourth on the Eagles all-time passing list, trailing only Donovan McNabb, Randall Cunningham and Ron Jaworski.