The Eagles are 5-4 and in the thick of the playoff chase. But they have very little margin for loss as they travel to Cincinnati. We break it down here ...
Head coach Andy Reid said he'd like his team to start out more consistently and put together a more complete game, but he didn't go into any specifics as to what he plans to do in that respect. Running back Brian Westbrook has consistently expressed his desire to get more carries, and against Cincinnati's 25th-ranked run defense Reid's game plan could involve the basics.
It is important for the Eagles to start quickly and play a strong 60 minutes against Cincinnati. While the loss on Sunday night to the Giants hurt, the Eagles are still 5-4 and in the thick of the playoff chase. But they have very little margin for loss, especially against a team that has struggled as the Bengals have all season.
What can the Eagles do to improve their offensive efficiency in short-yardage situations?
It is a leading question this week and it is something the team has worked on extensively to improve. Starting in the Dallas game, and then making for a huge problem in Chicago, the offense's latest trouble in short-yardage situations came last week against New York. The Eagles failed to convert on a third-and-3 run and then a fourth-and-1 run and gave up the ball with less than two minutes remaining to thwart a comeback effort against the Giants.
Clearly, the Eagles need to establish the line of scrimmage more effectively on short-yardage running plays. Brian Westbrook has not had the freedom to get past the first level of defense on a consistent basis this season, which has cost the team at critical points in games.
This is something Eagles fans have been watching all season and the problems have become a full-blown issue for the team. The Eagles are in the midst of their stretch run with little room for error, and solving the short-yardage woes would go a long way toward putting this team back on the road to victory.
If you ask Eagles defensive coordinator Jim Johnson, his defense might have faced the best offensive line in football in last Sunday's 36-31 loss to the Giants.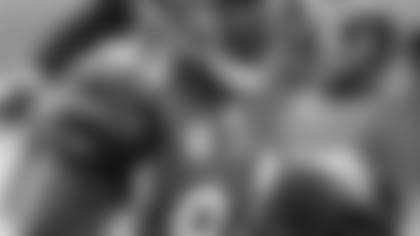 WR T.J. Houshmandzadeh
Against the Bengals, they should face a considerably less daunting task. However, the Bengals are coming off of their first win of the season – in which they produced a 100-yard rusher in Cedric Benson – and a much-needed bye week.
Johnson wants to avoid a similar performance from his defense, which yielded 219 yards to the Giants on the ground.
"I'll congratulate the Giants. Their offensive line is as good as I've seen this year. That's the best offensive line we have faced this year. I probably could have done a better job with the scheme," Johnson said. "The thing about it is that we've done a pretty good job against the run game. I probably spent too much time ... (on) better coverage than run defense."
Johnson said he doesn't believe the size of his interior linemen to be an issue, and that the responsibility against the run falls on his shoulders.
"I think it was the scheme, more than anything else. I think I have to do a better job with the scheme. I don't want to get too tied up in the run game, because it's still about giving up points," Johnson said. "The thing about it is that, in that game, our main goal is to not give up too many points. We got our turnovers, but we gave up too many points."
Cincinnati ranks 31st in the league in point per game, managing a mere 13.9 points per game.
Bengals RB Cedric Benson:Claimed off the scrap heap after being jettisoned by the Bears in the preseason, Benson has started three consecutive games for Cincinnati. He had his best game before the bye week when he gashed Jacksonville for 104 yards and a touchdown on 24 carries. In his three starts, Benson has rushed 51 times for 205 yards, an average per carry of more than 4 yards. He may not be Brandon Jacobs, but the 5-11, 220-pound Benson must be neutralized.
Bengals WR T.J. Houshmandzadeh:Chad Ocho Cinco may get a majority of the headlines, but it's Houshmandzadeh that makes the Bengals' offense go. Houshmandzadeh enters the game against Philadelphia tops in the NFL in third down receptions with 21 and he's tied for first with third-down touchdown catches with three. With Ocho Cinco having a somewhat of a down year, Bengals quarterback Ryan Fitzpatrick will be looking Houshmandzadeh's way often.
Eagles RB Brian Westbrook: During his weekly press conference on Wednesday, Westbrook seemed frustrated with the team's lack of commitment to running the football. Westbrook shredded Atlanta's defense for 167 yards and two touchdowns on 22 carries, but over the last two weeks he's carried the ball a combined 33 times for 87 yards and no touchdowns. Cincinnati ranks 25th in the NFL in stopping the run, so if the Eagles were ever going to run the ball, this Sunday would be it.
Eagles CB Lito Sheppard: After sitting out most of last week's game with an injury, Sheppard returns to the lineup just in time for Cincinnati's three-receiver sets. Defensive coordinator Jim Johnson said that he expects the Bengals to run their offense out of that formation 60-70 percent of the time, which means Sheppard will be on the field often. He may just get a healthy dose of Ocho Cinco on Sunday.
KEEP AN EYE ON ... The Wonderlic Wonders
Eagles wide receiver Kevin Curtis and Bengals quarterback Ryan Fitzpatrick have something in common.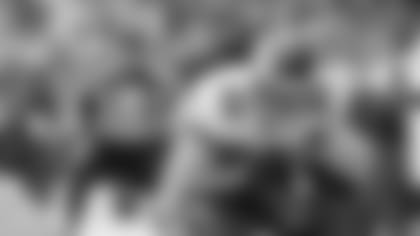 WR Kevin Curtis
Yes, they're both NFL players. Yes, their teams will face each other on Sunday.
But neither one of those is the answer.
Each of them excelled on the Wonderlic Test, the 12-minute, 50-question exam given to prospective draft hopefuls at the NFL Combine. Instead of testing football knowledge, the quiz is designed to assess a candidate's ability to learn and problem solve in different situations.
A perfect score is 50. Pat McInally, a former Bengals punter and wide receiver who was also a graduate of Harvard University, is the only player to ever attain that mark. It was widely rumored that Fitzpatrick, also a Harvard alum, nailed that perfect score. However, The Wall Street Journal revealed that Fitzpatrick netted a 38, which is still in the 99th percentile, in just nine minutes. Curtis, a Utah State product, owns the best Wonderlic score by an active player with a 48.
Fitzpatrick is starting for the sixth time this season because Carson Palmer has an injured elbow. The former St. Louis Ram has completed 62 percent of his passes for 789 yards, four touchdowns and six interceptions this season. However, Fitzpatrick guided the Bengals to their first win of the season, a 21-19 decision over Jacksonville before last week's bye. On the first two possessions, the Bengals drove 84 and 88 yards, respectively, as Fitzpatrick connected with Chad Ocho Cinco for a pair of touchdowns. Fitzpatrick, a mobile quarterback, finished 21-for-31 for 162 yards with the two scores and an interception. He also has two outstanding receivers in outside force Ocho Cinco and slot demon T.J. Houshmandzadeh.
Curtis, meanwhile, has racked up 12 catches for 153 yards and a touchdown since returning to the lineup after sports hernia surgery sidelined him for the first part of the season. Against Seattle two weeks ago, Curtis caught a season-high six passes and last week against the Giants he caught his first touchdown of the year on a fourth-and-goal play.
The Bengals have been gashed on the ground - they own the 25th-ranked run defense - and if Cincinnati opts to concentrate on containing Brian Westbrook and Correll Buckhalter, then Curtis could be left in favorable one-on-one matchups. It doesn't take a genius to know that Curtis' good hands and speed should enable him to produce a big game.
*FIRST AND LONG
---
Eagles QB Donovan McNabb is 13-4 (.765) in his past 17 starts vs. AFC and is aiming for his fifth consecutive interconference win.
Offensively, the Eagles rank 13th in the NFL with 5.42 yds. gained on 1st down. Defensively, they rank 4th in the NFL, allowing just 4.38 yds. on 1st down.
Defensively, the Eagles are 4th in the NFL with 28 sacks in 2008. Offensively, they have allowed just 13 sacks all season, which is the 10th lowest total in the NFL.
Philadelphia averages 27.9 points per game, while only allowing 20.0. With a difference of 7.9 points per game, the Eagles rank 3rd in the NFL.
Since 2000, the Eagles own the 2nd-best record in the NFL following a loss, owning a 30-15 record (.667). In 2008, they are 2-1 following a loss.
With a 262.4 net passing yard avg., the Eagles offense currently ranks 5th in the NFL. In addition to moving the ball well, the offense has been able to come up with "big plays," as they rank t-5th in the NFL with 33 passing plays of 20-or-more yds.
Eagles WR DeSean Jackson leads all NFC rookies with 38 catches and 586 yards.
The Eagles are 1-2 this season when RB Brian Westbrook touches the ball fewer than 20 times.
The Bengals are 9-2 (.818) in their last 11 home games against NFC teams.
Cincinnati is 15-7 (.681) under head coach Marvin Lewis in the month of November.
In Cincinnati's last two home games, QB Ryan Fitzpatrick has completed 42 of 66 (63.6 pct.) for 326 yards with 3 TDs vs. 1 INT and a 84.5 passer rating. Fitzpatrick also has 94 rushing yards in his past two.
Bengals WR T.J. Houshmandzadeh aims for eighth consecutive game with 6-plus receptions. Since '07, he ranks second in the NFL with 173 receptions.
Bengals KR Glenn Holt is second in the AFC with 860 kick return yards.