There's nothing like going home for the holidays.
Linebacker Connor Barwin knows this well, and on Wednesday he will board the team flight and head back to his hometown of Detroit for the Thanksgiving showdown with the Detroit Lions.
"I can't wait," Barwin said on his conference call with the Detroit media. "I'm excited about the game. I'm excited about being back with family for Thanksgiving and to be able to take a couple of days off and stay in Detroit. ... We get Friday and the weekend off, so I'll just stay there. I'm sure (fellow Detroit native Brandon Graham) will stay there, and we'll spend time with our families."
Barwin grew up in Hazel Park in the area surrounding 9 Mile Road, going to school at University of Detroit High School and honing his basketball game at the now-abandoned St. Rita's Church. Now, Barwin calls Philadelphia home, but he's had chances to go back to see the city that shaped him into who he is today. The skyline of Detroit is tattooed on the interior his right arm.
"I just think who everybody is a result of where they're from and their environment and their experiences, and who I became obviously resulted from growing up in Detroit and the experiences I had growing up in Detroit, so that's why I decided to get the simple skyline tattoo on my arm," Barwin said.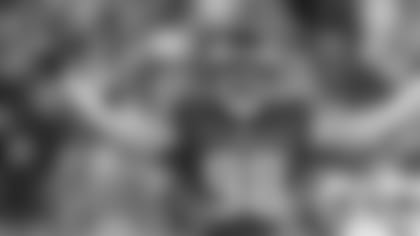 Barwin truly is a man shaped by the cities he's lived in. His father was a city planner, and from there, Barwin learned to both appreciate and support his surroundings. In each city that he's played in, Barwin has made an effort to immerse himself into the community and help restore public parks for the city's youth. His Make The World Better Foundation has held two benefit concerts at Union Transfer in Philadelphia, and just this past summer, Ralph Brooks Park in South Philadelphia was brought to life thanks in part to Barwin's efforts.
While Barwin has been focusing his attention on Philadelphia, he hasn't forgotten about his hometown.
"The past couple of offseasons when I went home, I think there is a lot to be excited about obviously in Detroit, a lot of really interesting things happening," Barwin said. "It's still a little strange to me when I go back just to see some parts of the city how quiet it is when you walk around. It's still great to be back and I'm excited about where the city is going right now.
"I'm touring a couple of projects Friday after the game, which I'm excited about. I'm doing a lot of stuff with my foundation here in Philadelphia, but eventually when we find the right partners for the right projects, we want to move it back home to Detroit."
This trip to Detroit will be Barwin's first time playing at Ford Field as a member of the Eagles, but he's played their before as a member of the Houston Texas. In fact, he played in his hometown on Thanksgiving of 2012, as the Houston Texans defeated the Lions 34-31 in overtime.
"It was the game, if you remember, where Jim Schwartz threw the challenge flag on the Justin Forsett touchdown," Barwin said. "So that game was pretty crazy. … It was a great Thanksgiving game and I'm glad that the team I was on was the winning team."
On Thursday, Barwin will once again play against the team that he rooted for growing up, the team that he watched year after year on Thanksgiving Day with his family, wearing his Barry Sanders jersey. But just like back in 2012, Barwin will be rooting for the visitors this Thursday, as he and the Eagles look to regroup and bounce back to form in hopes of giving Philadelphia something to be thankful for.
Earlier this month, Eagles linebacker Connor Barwin held his second-annual Make The World Better benefit concert ...