With nearly 70,000 fans cheering the Eagles on to victory, Lincoln Financial Field can get loud. Oh, I'm sorry, LOUD! Decibel levels reach triple digits making it hard at times to have a conversation with the person you're standing next to. The players on the field thrive off of the emotion as they wave their arms in the air the way a conductor leads an orchestra. There are times when players state that they are so focused they can hear nothing. Maybe that's true. But at one point in time that was certainly the case for linebacker Connor Barwin. He was born deaf.
"I never really talked about it because I felt like I was very lucky," said Barwin after a recent training session at the NovaCare Complex. "There are a lot of people who are born deaf who are still deaf. I can say I was born deaf, they put tubes in my ears and I got my hearing back. I had to go through a lot of major surgeries, but I was a kid. I didn't know any better. It really was never a problem, at least the way I look at it. I didn't want to talk about it because to talk to people who didn't get their hearing back, I always felt that I wasn't much of an example. I was very lucky."
The discovery of Barwin's hearing loss was even more fortunate. The youngest of four boys, Connor went with his mother, Margaret Bailey, to see a specialist. But 2-year-old Connor wasn't the reason for the visit. It was his brother, Sean, who had a severe ear ache. During the visit, the doctor picked up on the behavior of young Connor, who talked in a loud voice and grabbed at his mother's face. Those are telltale signs of deafness.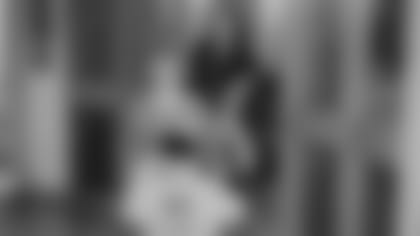 Barwin's right ear was fixed with surgery and tubes. No problem. The left ear? Well, that wasn't so easy. There was a benign tumor wrapped like a vine around three hearing bones. Doctors had to expand his ear drum to go in and chip away at the tumor. After two surgeries, doctors needed easier access and could not expand the ear drum again. Instead, they had to cut from behind his ear and peel it open like a banana. The final surgery to excavate the tumor, Barwin recalled, wasn't until 10 years after the initial discovery.
The only cosmetic effect remaining from the surgeries to this day is Barwin's left ear hole, which is larger than normal. He's confident now, but was self-conscious about it when he was a teenager.
"I used to grow my hair out long so I could cover it up, but now, obviously I don't really care about it. You still catch people looking at it funny and you don't know what to say," Barwin said. "I like when people just say something up front instead of me having to notice that they're staring at me, and then I have to tell them, 'Yo, it's okay. I had surgery on my ear.' So now I don't care. I could do reconstructive surgery to make it look like my right ear, but I don't really care anymore."
Today, Barwin has only 10-15 percent of his hearing in the left ear. It affected him as a tight end at the University of Cincinnati. When he lined up to the right of the quarterback, he could not hear the signals as well and had to look at the snap of the ball. Unfortunately, his timing was off. He visited a specialist and tried to use a hearing aid, but it would not be effective due to the vibrations while wearing a helmet. He moved to the defensive line as a senior and the hearing has not been an issue since.
"I just don't worry about it anymore. If anything, it can be an example to young people not to worry about the things that you can't control. Just kind of own it," Barwin said. "I was lucky to have people around me who supported me. My mom really never made me feel like I was any different than any other kid, and I think that was important for me growing up. She never allowed me to feel like I was any different, so in my mind I never thought I was."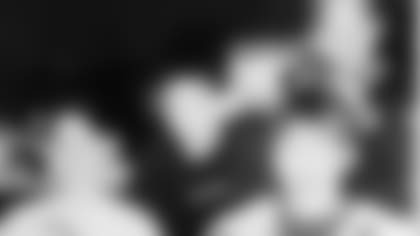 A second-round draft pick of the Houston Texans in 2009, Barwin recorded 19 sacks in four seasons despite missing nearly all of the 2010 season with a dislocated ankle. He returned the following season as the Texans transitioned from a 4-3 defense to a 3-4 scheme. At 6-foot-4, 264 pounds, Barwin's athleticism and length allowed him to thrive in the new defense.
He registered a career-high 11.5 sacks and earned AFC Defensive Player of the Month honors that November. Following another productive season in 2012, however, the Texans allowed Barwin to test free agency. The Eagles viewed Barwin as the ideal person from a player and leadership standpoint to help aid their transition to a new defensive scheme, similar to the one the Texans went through just a few years earlier.
"Connor has changed as a player. When Connor first came in, he was a fast guy on the outside just rushing, spin moves, all of those things. Now, you can just tell he's more mature. He's studied the game more," said DeMeco Ryans, Barwin's teammate in Houston and Philadelphia.
"I can tell the game has slowed down to him. He understands the game a lot better. He's a very valuable asset to our defense. I don't know if they valued him as much in Houston, but here he's a really valuable piece to what we do. He allows us to do as much as we do on defense. He allows us to be a very multiple front because of his abilities."
Barwin had a career-high 82 tackles to go along with five sacks in 2013. With the defense fully immersed in the scheme, defensive coordinator Bill Davis has unleashed Barwin this year. He enters tonight's game as the team's leader in sacks with seven. In last Sunday's win in Houston, Barwin exacted revenge on his former team with a sack and a batted pass, something the former college basketball player has developed a knack for with 12 in the past two seasons. As the Eagles sit at 6-2 and look to make a deeper push into the postseason after winning the NFC East a year ago, Barwin will have to shoulder additional leadership responsibilities after Ryans landed on Injured Reserve with a ruptured Achilles.
"I fit along with what Chip (Kelly) says, you have to be better every single day, but I think every single year you have to grow," Barwin said. "I think I'm very lucky to be playing for Billy, and Coach Kelly. I think just as a person you just try to grow every single year. I've grown this year from last year. I've grown, obviously, a lot from my days in Houston. I think that's just natural, and that's what you should try to do as a player and as a person."
Barwin has embraced his role as well as his new city. A native of Detroit, Barwin believes that you get out of a city what you put into it. He's become a spokesman for NRG and SEPTA. He rides public transportation multiple times a week. And he started the Make The World Better Foundation that is "dedicated to enriching the lives of our youth by providing safe and fun areas for artistic and athletic enjoyment." Barwin put together a benefit that raised $170,000 toward the revitalization of Ralph Brooks Park in South Philadelphia.
Appropriately, Barwin's vehicle for the fundraiser was a concert.