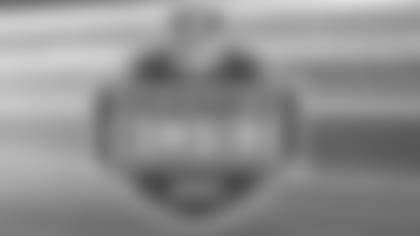 INDIANAPOLIS -- **Sunday was another day of interest for Eagles fans on the turf of Lucas Oil Stadium as the receivers and running backs performed for scouts over a seven-hour period. This is an area the Eagles may look towards starting in round two, so let's look at how some of the lesser rated prospects did.
Combine Report: Wide Receivers And Running Backs
Dominque Edison/WR/Stephen F Austin: Edison is a well sized receiver at 204 pounds and ran well today, clocking his 40's between 4.38-4.41 seconds. He's a sure-handed wideout who has been very consistent in college. Edison did something Sunday he never showed on the college field; he played to his timed speed. NFL scouts always knew Edison was stopwatch fast but were concerned as he never showed that speed in full football gear. That seemingly changed Sunday in Indianapolis. At the very worst, Edison is a part-time contributor as a fifth receiver. But if he hits on all cylinders he could develop into a solid number two at the position.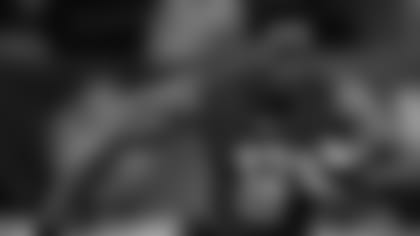 Liberty RB Rashad Jennings
Demetrius Byrd/WR/LSU: Byrd is another good-sized receiver at 6-feet and 200 pounds. He ran well, timing a combined 4.37 seconds in both runnings of the 40 before turning in a terrific pass-catching workout. Byrd was a bit inconsistent at LSU and was not as productive as scouts had hoped. The potential is there if the light goes on for him.
Deon Butler/WR/Penn State: Butler was the surprise of the field as the former "one-speed" receiver blazed in the 40. His times, which got under 4.3 seconds on a number of stopwatches, raised a lot of eyebrows at the morning's combine workout. Later Butler showed great quickness and pass-catching skills. He definitely raised his draft stock but the question is do the Eagles want a 5-foot 10-inch receiver? Butler could turn into a productive third wide receiver.
Brian Robiskie/WR/Ohio State: Robiskie looked like the son of a football coach on the football field. He caught everything thrown in his direction, diving around the field to grab many of the errant passes tossed by Mark Sanchez and company. Robiskie is not a blazer and barely broke 4.5 seconds in the 40, rather a very polished pass catcher who could come in as a rookie and give some early returns.
Andre Brown/RB/North Carolina State: Brown looked like a star in the making after his freshman season at North Carolina State before injuries slowed his career most of the next three seasons. He came to life at the Senior Bowl and once again impressed scouts at the combine. Brown weighed in at 224 pounds then completed a solid 24 reps on the bench. On Sunday he ran his 40s in the low 4.5-second area, another good mark. Considering his injury history and his physical skills, Brown could be the perfect complement for Brian Westbook.
Rashad Jennings/RB/Liberty: Jennings' Combine performance was solid, nothing spectacular. His 40s were in the low 4.6-second area and his practice session was productive. Jennings did complete 29 reps on the bench after weighing in at 231 pounds. What was eye catching was his approach during the workout. While some players choose not to run at the combine, Jennings asked for and received an extra attempt at the 40 as he was not happy with his first two runs. Throughout the practice he asked coaches to take extra reps if he was not happy with the way he had performed certain drills. It's that sort of mentality a team will want on its' roster.
Kory Sheets/RB/Purdue: Sheets was another player who exceeded expectations with his workout. He measured 5-feet, 11 inches and 208 pounds and then averaged 4.40 seconds in the 40. Sheets later displayed that speed with and a lot of quickness during the practice session. He's always had terrific pass-catching hands and could be a productive backup or rotational back in a West Coast-type of offense.
Tony Pauline has been the NFL draft analyst for SI.com since 2002. He's also been a draft contributor for PhiladelphiaEagles.com. Tony is also owner of **TFYDraft.com*, site solely dedicated to the NFL Draft 12 months a year.*