Trent Cole wasted no time proving to the world that he can, in fact, play outside linebacker in a 3-4 scheme. Not only can Cole survive at his new position, but as he showed in the season opener, he can thrive.
On the very first snap of the season for the new-look 2013 Eagles defense, Cole forced a fumble that would set up the offense's first touchdown. He lined up at right outside linebacker, standing in front of Washington Redskins left tackle Trent Williams. Cole fired off the snap and immediately read a handoff to running back Alfred Morris, who was rushing right. Cole explosively closed down the line of scrimmage in backside pursuit, hustling from one side of the formation to the other in no time. Cole met Morris just as the running back was attacking the hole, hitting him from the side and knocking the ball loose with his left hand.
Inside linebacker Mychal Kendricks picked up the fumble after one bounce, and, just like that, the defense mimicked the energetic, aggressive, ferocious tone that had been set by the offense. And who better to make it happen than Cole, the longest-tenured Eagle on the unit? Turns out he really enjoys playing outside linebacker in a 3-4, too.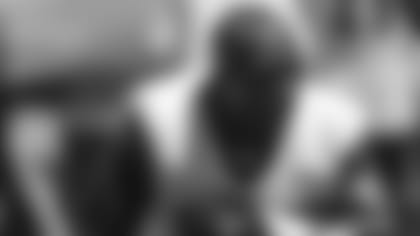 "It's a whole lot easier because you're already in a position to attack," Cole said. "When you're playing (defensive) end, it's always a surprise every single time you come up out of your stance and raise up. It's always a surprise and you have to think and react quickly. When you're playing outside linebacker, you're standing up and you can see everything happening, you can make a decision quickly."
After a tough 2012 season that had many questioning whether Cole was on the downside of his career, the veteran emphatically silenced the naysayers with a virtuoso performance in Week 1. He was flying around the field and making plays all over, finishing with eight total tackles and a quarterback hurry to go along with the forced fumble. Cole was even credited with forcing a safety when he was the first to touch Morris during the latter's fumble in the end zone on an errant pitch. Cole turns 31 in October, but he feels invigorated and rejuvenated at outside linebacker because of the movement freedom and blocking matchups it facilitates.
"My mentality is, they put me anywhere on the field, I'm going to play," Cole said. "I'm very excited, I was excited going into the (Redskins) game to play a new position. It's a new challenge to me. I truly feel like it's easier than defensive end, and that's the truth as how I feel. I'm standing up, I'm already in attack mode. I'm not fighting tackles all the time, I've got running backs and tight ends and receivers, so I feel dominant and feel like I can overpower all of them. That's the way I want to go into a game, that's my mentality: I'm going to overpower them, I'm going to do whatever I can to be big on them."
Cole views his personal switch to 3-4 outside linebacker as emblematic of the change the entire Eagles organization has undergone since Chip Kelly was hired as head coach eight months ago. Not only was the transition from the Andy Reid era to the Kelly era a fresh start for the franchise, but the scheme change to a 3-4 brought about a fresh start for Cole, too. He is determined to take advantage and, like Kelly's offense, has gotten off to a fast start. That said, Cole is not satisfied, and he knows that both he and the defense still have a lot to improve upon and a long way to go.
"It's very different," Cole said. "I'm in a new position, I've got new teammates, new coaches. This is a new organization now pretty much all around. It's a whole new era for the Eagles. It's very exciting to start up a game like we did against the Redskins and put one in the books. Now, pretty much, we just have to take every game week by week and move on to Sunday's game against the San Diego Chargers and build upon what we've (accomplished). We want to make sure (the performance against the Redskins) was our worst game of the year."