Cardinals linebacker Karlos Dansby dove for Donovan McNabb's legs as McNabb began to scramble out of the pocket. Dansby completely missed McNabb, but the full brunt of his body weight landed squarely on Max Jean-Gilles' right foot.
The 6-foot-3, 358-pound offensive guard that had been filling in for the injured Shawn Andrews crumpled to the Lincoln Financial Field turf with a fractured ankle. With 20 seconds left in the first half of Thursday's 48-20 win over Arizona, Jean-Gilles' season was over. He will have surgery to repair the ankle early next week.
"Max will go on IR (injured reserve)," head coach Andy Reid said. "This is a pretty serious injury that Max has. He will go on IR."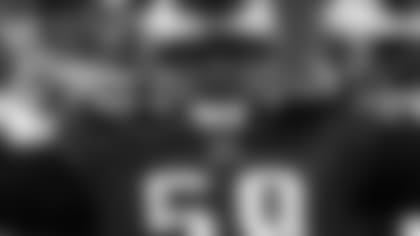 The new starting guard Nick Cole
All of a sudden, the starting right guard position belongs to Nick Cole.
Cole, a rookie free agent signee in 2006 out of New Mexico State, has never been thrust into a bigger place. He's started two games in his career and coincidentally both were against the New York Giants, the Eagles' next opponent.
"Nick's a very good athlete," head coach Andy Reid said. "You see him on the kickoff return team and he works in the wedge there. Nick is a good athlete. He's very, very strong and big; it's just, he's short. That's OK. I don't really care about that, I just care that he can move the pile and that he's sharp. Every time he gets in there, he functions very well for us."
The Eagles offense didn't seem to miss a beat. Philadelphia continued to dominate the time-of-possession battle and scored on a 9-yard touchdown run in the third quarter to give the Eagles a 31-7 lead. In fact, the Eagles gained 219 yards of total offense in the first half. They had 218 in the second half.
"I don't think it will be that big of a problem," tackle Tra Thomas said. "Nick can hold his own. With him being a center and all, he knows all the calls and knows what to do. So, I don't think it will be an issue. I think he will step right in and come out and do what he's supposed to do."
Cole, who normally backs up starting center Jamaal Jackson, has the ability to fill in at either guard position. According to Cole, the biggest problem depends on which side he's called upon to play.
"You pretty much have to know how to adjust from left to right," Cole said. "Some people feel different on different sides, but in the situation I'm in, I have to be prepared for each side. I play center so I know all the calls. It's pretty much the same except for the mental part."
Thomas was impressed with the pass-blocking ability that Cole displayed on Thursday night.
"He stays low and you can ask anyone in here, especially on the defensive line when he's doing one-on-one pass protection, nobody gets past him," Thomas said. "He is a great athlete and I don't think there is going to be any drop off in play."
It just goes to show that the old axiom is right: a backup is only one snap away from being a starter.
"You have to make sure you're on your toes," Cole said. "You never know what's going to happen."