Surprise, surprise. On Thanksgiving morning, Trent Cole goes hunting.
Rabbit hunting, to be exact. It's a tradition the Ohio native and veritable outdoorsman grew up with, one he likes to continue every chance he gets. Before the bread is broken, before the turkey is carved and before the television tunes in to football games, Trent Cole goes hunting.
"I don't get to go out much on Thanksgiving anymore, since I'm usually (in Philadelphia)," Cole said. "But it's something I always did and always loved to do. My family still does it. I just can't be around all the time because of football."
It's one of the reasons Cole doesn't usually hunt for his own Thanksgiving turkey, though he has done so in the past.
With either a harvested turkey or a store-bought one, Cole said the trick is in the preparation, and he's a self-proclaimed expert when it comes to marinating. Harvesting a turkey is a process that could take months, he said, and he rarely has time for turkey season. Buying one gives him a chance to explore his other talents.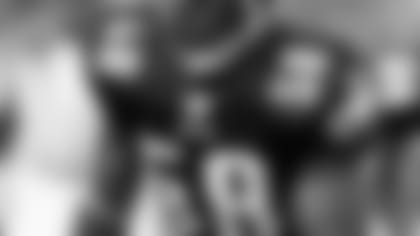 DE Trent Cole
"Nah, store-bought really isn't all that different," Cole said. "It's the marinade that counts. I'm big into marinating. Hickory-smoked turkey, I love honey-roasted turkey. Honey-roasted ham, too. That's a meal."
Rest assured that after the meal, back in Ohio, the Cole household won't be concentrating too much on their traditional domino and card games this Thanksgiving night – Trent will be on center stage. With the Arizona Cardinals visiting Lincoln Financial Field tonight, the Eagles will be playing in their first Thanksgiving contest since 1989 and their first at home since 1940.
For Cole, who grew up watching football after the morning rabbit hunt, it's a special occasion. It's a big game for the big-game hunter, a defensive end whose ability to get to the quarterback has made him one of the prime targets for opposing offensive linemen to team up against.
And that doesn't bother Cole too much.
"Man, I've been seeing double teams for a couple of years now," Cole said. "I guess people are starting to notice me a little bit more. I'm used to it."
Cole's presence on the outside has worked wonders for his teammates as a whole – both Darren Howard (8 sacks) and Juqua Parker (5 sacks) are having big years, and the attention Cole commands is a major reason. On top of the double teams, his quick first step helps him draw holding penalties, false starts and illegal hands to the face penalties, among others.
He had eight sacks in 2006, 12.5 a season ago (which earned him a trip to the Pro Bowl) and he's on his way to another double-digit campaign this year. Entering the Arizona game, Cole has seven sacks to his credit, including four in the last three games.
Expect the Cardinals, who rely heavily on their relatively immobile quarterback Kurt Warner's ability to drop back and find his play-making receivers down the field, to put a little bit of extra focus on Cole. But in doing so, that could open the door for his teammates to get to the quarterback, much like they've done all season.
"We've got a lot of good players, a lot of players who can play two positions, and we've got a lot of guys to work with," Cole said. "I'll just keep doing what I've been doing, and doing the same routine I've been doing. And hopefully it rubs off on the guys behind me."
This Thanksgiving, Trent Cole will be going hunting, but this hunt is different. He's not rabbit hunting this time, and it's not turkey season. Instead, it's the Eagles' season during a stretch run in which every game is huge.
"I'm going to try to get after (Warner)," Cole said. "I'll be going my hardest."