JOHNSON: UPDATING THE DEFENSIVE END SITUATION
Injuries at the defensive end position have forced defensive coordinator Jim Johnson to make some adjustments.
Victor Abiamiri is still recovering from wrist surgery, rookie Bryan Smith recently returned to action after straining his hamstring and free agent acquisition Chris Clemons continues to deal with a calf injury.
DE Chris Clemons
With all of these injuries, Johnson feels that Darren Howard will have an increased role at both end and inside for the nickel package.

"We have to get him on the field as much as possible," said Johnson. "He's having a good camp."

Although both Howard and Johnson feel right end is his more natural position, he will keep taking a few reps at left end.

"If you are a baseball player, if you are a right-handed batter it's like switching to your other hand," Howard said. "Everything you learn how to do with your right hand; you have to learn how to do with your left hand."

While Howard and Smith add depth behind Pro Bowl end Trent Cole on the right side, the right to backup Juqua Parker at left defensive end now has a tough battle between Jerome McDougle and Chris Clemons. Clemons primarily needs to focus on getting healthy and back on the field, according to Johnson.

"McDougle is pushing," he said. "He's got two more preseason game, we'll know more then."

Johnson said that the former first-round draft pick has a 50-50 chance right now of getting some time with the first-team defense against New England on Friday night.

Johnson believes the time Smith missed with the injury really hurt his development, but there have been good signs from him.

"The thing that set him back was the injury. He's behind," Johnson said. "He's got some ability. We see that ability right now, but he's still in a learning process. I don't know how long it's going to take; it's hard to put a finger on that."

With this being Clemons' first year in the system, he too has some catching up to do in the mind of the defensive coordinator.

MORNHINWEG: HUNT FOR A FULLBACK

Offensive coordinator Marty Mornhinweg insists he isn't displeased with what he's seen from the fullback position so far in preseason. But for now-fullback Tony Hunt, it's been more of a spot he's earned a look at.

"Tony's got an excellent opportunity here, and we'll see if he takes advantage of it," Mornhinweg said. "He showed up last game in many different areas, and was impressive. And so he's earned and deserves an opportunity to get himself on the field."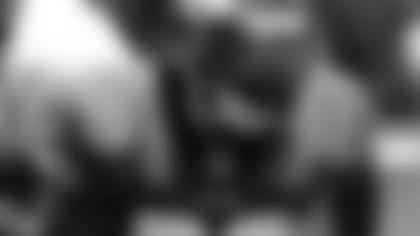 FB Tony Hunt
An impressive performance last week against Carolina, including a long touchdown run and two special teams tackles, opened eyes for Hunt. Now, coaches hope he can open some holes. Should things continue to go as planned this week, Hunt, converted Monday from running back, will become the Eagles' third starting fullback in three preseason games at New England on Friday.

Questions about his blocking might have hindered any sort of move previously. But Mornhinweg said coaches had "small, quick discussion(s)" on occasion and determined that the move was worth a shot.

But here's the thing: the fullback, traditionally the least-used aspect of the Eagles' attack, could see an increased role should a natural tailback like Hunt win the job. But don't get things twisted – blocking and special teams still take precedence.

"Playing him at (fullback) could help us, as long as he has some of the fullback qualities, which I think he might very well have," Mornhinweg said. "He normally catches the football very well. He has some of those halfback skills playing that position. If he can be a little bit of a hammer, then that would be a good thing."

Speaking of blocking, right guard Shawn Andrews is back in practice and looking good, according to Mornhinweg.

Mornhinweg said Andrews' status on Friday will be determined later this week.

"He's working hard and preparing hard. We'll see what happens here," Mornhinweg said. "I think (head coach Andy Reid) is taking it day-to-day here, but we'll see what happens. I would expect him to play very well."

SEGREST: DEMPS TAKES OVER AT KICKOFF RETURNER

With one rookie already displaying promising return abilities, special teams coordinator Rory Segrest will turn to another Friday night as kickoff returns will be put in the hands of Quintin Demps.

Though Lorenzo Booker remains in the mix, Demps will get the "majority of the reps" in the preseason game against the Patriots.

"We're happy with either guy," Segrest said. "Quintin did it in college and he had a lot of success. We feel like he can give us something back there, but we're going to continue to rep both of those guys. As the season goes along, we'll probably end up using both of them before it's over with."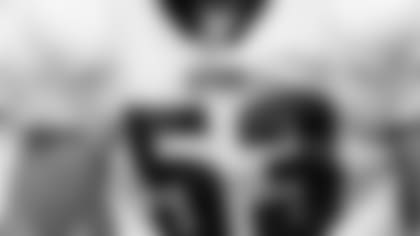 LB Andy Studebaker
Booker, who did not return kickoffs as a rookie with the Dolphins last season, had a forgettable outing last Thursday against the Panthers. He had three kickoff returns for just 20 yards and muffed all three catches. Demps, meanwhile, made the most of his one opportunity, returning it 28 yards.

Segrest acknowledged the importance of ball security - a problem in the season opener at Green Bay last season - and says he feels both comfortable and confident with his returners.

"We brought in two guys that we feel very condfident in, with both DeSean (Jackson) and Quintin Demps," Segrest said. "We feel confident in what we've got and we're ready to go forward from here."

Jackson had five punt returns for 46 yards against the Panthers. He lost the football while trying to make a defender miss on a 27-yard return, but Segrest attributed that to just a nice play by the Panthers player.

Through two games, Segrest said he's pleased with Jackson's progress.

"We know he's capable," Segrest said. "Right now, he's still kind of feeling his way through. He had a couple of other return situations where we felt like he had plenty of room to go and let the ball move him a little bit and didn't quite get set up fast enough to catch it and get going up the field.

"He's definitely got the talent. It was good to see him have a little success. We feel like we're going to continue to see big returns from him throughout the season."

As for the remaining spots on his units, Segrest said he has been shuttling people in and out, trying to find the right mix for his coverage and return teams.

"We're trying to get a lot of guys evaluated at this point," he said. "We try to start the game with our starters there on special teams, but at the same time, we're trying to throw a few guys in there as starters who we're trying to take a look at as a starter. He may not necessarily be, but we want to evaluate him against the best competition.

"For this game, we're going to start off with some young guys in there on a couple of starting units and see how they fare."

Segrest lauded the work of rookie linebacker Andy Studebaker as well as second-year man Tony Hunt, who is working as a fullback this week.

The fullback, Segrest says, is integral to special teams.

"We've got to have our fullback able to contribute therem," Segrest said. "You look across the league and you've got a lot of teams that have a fullback as one of their major contributors there, so we're trying to put that emphasis there. We're trying to figure out who can give us the best option at both positions, both on special teams and at fullback, and try to make a decision from there.

"With Tony having the level of success that he had (last week), we feel like he can also help us at fullback, so we're going to give him a shot there and see how it works out."

In other special teams news, Segrest said he expects second-year linebacker Akeem Jordan to be one of the leaders for his unit in 2008. Despite playing in just nine games last season, Jordan went on to lead the team in special teams tackles (19) and ranked fourth in special teams production points (209).

Finally, Segrest addressed the fake field goal that Carolina turned into a touchdown.

"That's the thing about running a fake or any type of onside kick or anything like that; it makes you look real good when it works, but it makes you look not so good when it doesn't," Segrest said.

Regardless, Segrest says his unit will stay aggressive in its approach.