The Eagles won three straight games between mid-October and early November to catapult them into the playoff discussion. Unfortunately, that was followed by a three-game winless streak that put the Eagles on the brink. Now, on Monday night, the Eagles can win their third of five straight must-win games to have a chance to qualify for the postseason. The third game is against a 4-9 Cleveland Browns team that is 28th in total offense and 27th in total defense. However, four of the team's losses are by four points or less.
MORNHINWEG: THE MOJO IS RISING
If the Eagles are going to make a run at the playoffs, momentum is exactly what the offense needs. Fortunately, the last two games provide a solid foundation for just that.
After falling into a black hole against the Bengals and Ravens, the Eagles summoned some force out of seemingly nowhere to rally with wins against both the Cardinals and Giants in back-to-back weeks.
And with their playoff hopes still alive, offensive coordinator Marty Mornhinweg hopes the Eagles' hot streak can continue.
"I think the fellas have played pretty well. I think that they have played at a high level. I do think that we have a little mojo going, a little momentum, and that's a good thing," Mornhinweg said. "We'll see if we can keep that thing going."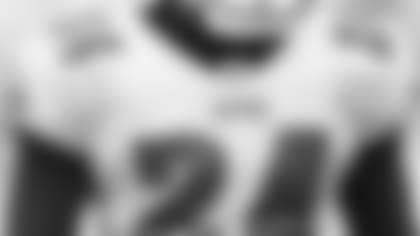 CB Sheldon Brown will be matched up against WR Braylon Edwards
Mornhinweg's offense was able to establish a solid running game with healing superstar Brian Westbrook able to handle an extensive load. He went over 100 yards from scrimmage against the Cardinals, and put up 203 against the Giants. At Giants Stadium, Westbrook had outgained the entire New York offense until the Giants' final drive (the Giants finished with an eight-yard advantage).
It was two impressive wins over two good teams, but Mornhinweg warned his players that the task hasn't passed yet, even with the 4-9 Browns looming on Monday night.
"They are up on Denver by 10 in the fourth quarter. They were up on Indianapolis; they held them to three points. There were several other games; Pittsburgh they were down by four in the fourth quarter," he said. "So, this is one of those teams that I believe they are 4-9 and they could easily be sitting there with a winning record."
If the momentum continues, Mornhinweg thinks his team could go a run similar to the 2006, when the Eagles won their last five regular season games to win the NFC East and also won a playoff game.
"I think that I've mentioned a couple of times, we don't ever lack confidence, but there's that unexplainable little feeling when you are playing at the top of your game," he said. "Look, we can play better now. We played well, we did some excellent things, but we can play better. There is more out there for us."
JOHNSON: WEAPONS OF MASS RECEPTION
The Eagles weren't the only team to dismantle the New York Giants this season.
Dating back to last season, the defending Super Bowl champions were riding a nine-game win streak when they went into Cleveland to play the Browns on Monday night in Week 6.
Cleveland, which was off to a disastrous 1-3 start, somehow found a way to demolish New York, 35-14, to hand the Giants their first loss of the season.
Since then, however, the Browns have gone 2-6, have lost their top two quarterbacks to injury and have failed to score a touchdown in three straight games.
Defensive coordinator Jim Johnson said that despite those facts his team shouldn't take Cleveland lightly.
"They still have two great receivers in (Donté) Stallworth - I know Stallworth has been banged up a bit - and (Braylon) Edwards," Johnson said. "Really good receivers. Of course, a good running back (in Jamal Lewis). I think the most impressive thing about this team, really, is their offensive line. I think they have an excellent offensive line. I think they pass protect as well as anybody in the NFL. They have a good scheme.
"(Left tackle) Joe Thomas is one of the top offensive tackles in the league. They still have some good skill people. I know (Kellen) Winslow is out, I know their quarterbacks have been injured. They have two quarterbacks down. (Ken) Dorsey is an experienced guy. They are still a formidable opponent."
Upon closer inspection, Cleveland's a little better than its 4-9 record would indicate. The Browns have lost four of those games by four points or less.
"I think they have to look back at some other teams they went against," Johnson said. "Against Baltimore, they scored a lot of points against a good defense. You go back to see how they did it. They had receivers who had great games. I just think you say how important this game is and what we have to do. (We know) they are banged up a little bit, but against a good Giants defense they scored a lot of points. Their receivers played well, they ran the ball well. All they have to do is look at certain tapes."
Taking the Browns out of the equation, the Eagles are in the same situation they were when they faced the Cardinals and Giants. Philadelphia has to win its final three games and get some help to qualify for the playoffs, so the Eagles have to take care of their own business no matter the opponent.
"So far we've had good practices," Johnson said. "I think they realize the importance of the game. All we can do is say, 'Hey, this is what they do, let's take a look at the tape, this is how good they are against certain teams. You have some great skill people, you have an offensive line we think is very good.' I think they realize the importance of this game."
SEGREST: TAKE IT TO THE CRIBBS
The Cleveland Browns got a steal when they signed rookie free agent Josh Cribbs in 2005 out of Kent State.
In every year of his NFL career, the 6-1, 215-pound Cribbs has taken at least one kickoff return in for a touchdown. Luckily for the Eagles, he's already done that this season with a 92-yard return against the Ravens.
Funny? Isn't that the same team Eagles' rookie Quintin Demps scored on. Correct. Demps set the team record for longest kickoff return by a rookie with a 100-yard return for a score - the Eagles' only score - in a 36-7 defeat.
"Josh is a very dangerous returner," special teams coordinator Rory Segrest said. "He's a guy that, even if you get guys in the right spot, it becomes a matter of getting him on the ground. He's a big-time tackle-breaker and he's got some great strength and great vision to find the soft-point of the coverage. This is going to be a great challenge for us there, but the biggest thing with him is just broken tackles. You see a lot of his big returns are guys in the right spot, but just can't get him down."
Cribbs became well-known league-wide in 2007 when he averaged 30.7 yards per kickoff return and scored two touchdowns. He also averaged 13.5 yards per punt return and added another score. This season, he hasn't been as effective but still averages 26.2 yards per kickoff return which ranks sixth in the AFC.
"He's just a strong, down-hill, physical runner, but, at the same time, I think part of it is his vision as well; just finding the soft-point in the coverage, knowing where to be and running through there and trusting his blocking is going to be there," Cribbs said. "We're going to have to get hats to the ball and make sure that we're solid bringing our feet on the tackle."
The Eagles surrendered a 98-yard kickoff return for a score in their Week 2 loss to the Cowboys. Since then, the kickoff and punt coverage units have been much improved. And Segrest has been able to do so despite seeing the roles for players like Akeem Jordan, who likely will be the Eagles' Special Teams MVP, and Nick Cole increase elsewhere on the field.
"Nick was our up-back in the wedge there and we put Trevor (Laws) in his spot," Segrest said. "Trevor's doing a nice job out there as well, but we've had Nick there for the last couple of years. Akeem's still trying to fill in, in a couple roles. We still have him on kickoff and we still have him on punt, but a lot of that depends on how many reps we're going to have to take on those phases. We've got a good, solid backup in there for him, in case he needs a blow on things. We're going to try to leave him in there, if possible."