JOHNSON: NOT FOR THE FAINT OF HEART
While much of the chatter leading up to Monday night's showdown in Dallas has centered around former Eagle Terrell Owens and the acquisition of Adam Jones, defensive coordinator Jim Johnson seems more concerned with running back Marion Barber, quarterback Tony Romo and tight end Jason Witten.
Barber is a strong runner that's tough to tackle, Romo's coming into his own and Witten has had success the Eagles since coming into the league in 2003.
That's a lot of weapons for the Eagles to defend.
"They're a balanced team, probably as much balance as you're going to see in the NFL," Johnson said. "They're very capable, those two backs (Barber and Felix Jones). We anticipate that they're going to try and run the football. They're very good at it. There's no reason that we think they're going to change. They've got so many weapons. Of course, when they added Felix Jones, they got a break-away guy. We anticipate that a little bit."
Barber is a bruising runner, but the Eagles have held him relatively in check. In their two meetings last season, for example, the Eagles held Barber to a combined 89 yards rushing in 23 attempts, and Philadelphia was the Cowboys' only opponent to hold Barber without a reception in 2007.
"He's a strong runner," Johnson said. "He's got good thighs and he's one of those downhill runners. He has a lot of energy and he's a tough guy. You put those all together and you got a pretty good running back."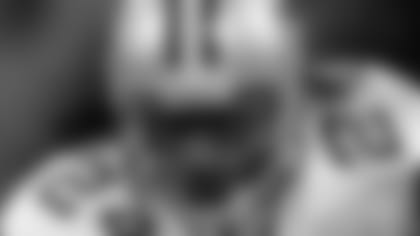 RB Marion Barber
But Barber gouged Cleveland, carrying the ball 16 times for 80 yards and two touchdowns in addition to catching three balls for 21 yards. Johnson stressed the importance of limiting the amount of yards Barber gains after contact.
"We stress, first of all, having a lot of people around him," Johnson said. "You better get a lot of people around him because he will break (tackles) - especially if he gets into the secondary, he will break some tackles. We've seen it against us and other teams, so we get a lot of people around him."
Witten is a whole other problem. In seasons past, the Cowboys' physical tight end has caused matchup nightmares for the Eagles. In two games against Philadelphia last season, Witten caught 11 passes for 190 yards and a score. Johnson hopes the speed of the Eagles' young linebackers will help counter that.
"First of all, they do a good job, Dallas, of moving him around quite a bit, just like they do with T.O.," Johnson said. "Part of the thing is recognizing where he's lining up in the formation, making sure we have some good matchups. It might be a safety, it might be a linebacker. We've got to do a good job with that. He's a physical guy, he's a big tight end and you just have to make sure you've got a pretty good matchup on him at all times."
And then there's Romo. In 27 career starts for the Cowboys, Romo has a 20-7 record. But in three starts against the Eagles, Romo has thrown six interceptions and has been sacked seven times while winning just once.
"I think, anytime you play a big game - and this is a big game, we all know that - you better make some plays on defense," Johnsons said. "The first time we played them up here (in 2007) we hardly made any defensive plays. We played them down in Dallas and we made some defensive plays.
"We made some interceptions - some key interceptions - we got some pressure on the quarterback, some big sacks. That's what you take from that game and I'm sure they feel the same way, 'Hey, we can't turn the ball over.' That's going to happen when two good teams meet in big games, we just made some plays."
The Eagles hope more good fortune falls their way on Monday night.
There was something about a few of the throws that Donovan McNabb made last week that could be considered almost Favre-esque.
Basically, over the course of Brett Favre's brilliant career, he seemed (and still seems, judging by his performance last week) to be comfortable with the notion that the difference between a smart throw and a stupid throw is who comes down with the ball. In Favre's case, more often than not, it was his own receiver.
So when Donovan McNabb lobbed up a ball to a streaking but tightly covered DeSean Jackson on the second play of last Sunday's win against St. Louis, there was a hint of No. 4 in the air.
"When you get a one-on-one situation," offensive coordinator Marty Mornhinweg said, "you want to stay away from crazy plays."
But the craziest thing about the play might not have been the rookie's incredible grab over Tye Hill and the 47-yard gain that resulted, but McNabb's confidence in his young receiver that made the throw possible in the first place.
It's a trait that Favre has also become known for – having confidence in his young, inexperienced receivers to make plays. After all, this is a guy that turned Robert Brooks, Antonio Freeman, Bill Schroeder, Donald Driver, Javon Walker and Greg Jennings all into 1,000-yard wideouts. And this is after he lost Sterling Sharpe to a career-ending neck injury.
"(Jackson) has it all. He's a pretty sharp guy. He has put the hard work and preparation in starting on Day 1," Mornhinweg said. "He's done about as well as I've seen any rookie do."
But on Sunday, it wasn't just Jackson for McNabb. Jackson, Hank Baskett and Greg Lewis all had 100-yard days, with starters Kevin Curtis and Reggie Brown both sidelined with injuries.
The situation, McNabb has said, is that his decreased mobility with his laundry list of injuries the past few seasons taught him how to improvise in the pocket with his arm instead of out in the flats with his legs.
"I do think, and I've said this a couple of times, last year's situation where he was healthy enough to play but didn't have quite the movement ability, I think paid off for him a little bit," Mornhinweg said. "He's playing that quarterback position pretty well right now."
SEGREST: JONESIN' FOR ANOTHER GOOD PERFORMANCE
Special teams coordinator Rory Segrest was quite pleased with the performance from his return and coverage units in last Sunday's win against the Rams. DeSean Jackson provided a 60-yard punt return, Quintin Demps downed two punts at the Rams' 2-yard line and Sav Rocca's 46.5 yard gross average ranked third in the NFC.
However, the Eagles special teams unit will have a much more difficult challenge on Monday night against the Cowboys. And the battle will start with two returners named Jones, Adam on punts and Felix on kickoffs.
"It's going to be a good measuring stick for us this week," Segrest said.
The last time Adam Jones returned a punt against the Eagles, his name was Pacman and he was a member of the Tennessee Titans. In the game that's better known as the one where Donovan McNabb tore his ACL, Jones broke the Eagles' back with a franchise-record long 90-yard punt return for a touchdown.
Felix was the SEC special teams player of the year at Arkansas last year as he averaged 31.3 yards per kickoff return. In his pro debut, Jones returned one kickoff for 20 yards.
"He did a great job coming out of college He's a really good returner there," Segrest said. "I know a lot of people had him ranked as the top returner coming out kick return wise in a lot of different publication. He's just a dangerous threat back there. They have a really good return game. He obviously adds to that."
Segrest said the key to the Cowboys return game is the core member of its special teams unit, Pat Watkins, Bobby Carpenter, Kevin Burnett and Keith Davis. In fact, the Cowboys return eight of their top-10 special teams coverage specialists from last season.
Those four players may not be Pro Bowl material, but they helped kicker Nick Folk and punter Mat McBriar get to Hawaii. Folk had a club-rookie-record 131 points last season. In six primetime games a year ago, Folk was 13 of 14 in field goal attemps including 2-for-2 from 50 yards-or-more. McBriar went to the Pro Bowl after the 2006 season and last year he followed that up with a gross average of 47.1 yards per punt, which was good for fourth in the NFL.