Cornerback Lito Sheppard hasn't hidden his desire to be the Eagles' starting right cornerback against the St. Louis Rams when the season starts on Sunday.
On Thursday, defensive coordinator Jim Johnson did his best to explain how Sheppard found himself as the team's nickel back heading into Opening Day.
"Sheldon (Brown) has been our right corner for a long time," Johnson said. "Of course when we brought in Asante (Samuel), he's our left corner. Those guys will still rotate. Still, all three of them will be on the field. I'm still saying they'll be on the field 60-70 percent of the time. That's how we went with it.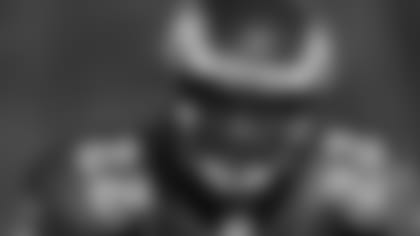 CB Asante Samuel
"I'm not going to say (Lito) did this or he did that. That's just the way (we decided to go with it). Sheldon was going to be our nickel and Lito was going to be our right corner at times. Sheldon is going to be our right corner at times. That's just how we went with it."
To his credit, Sheppard has been able to keep the business side of the game from interfering with his on-field duties. However, Sheppard has missed 14 games due to injury over the past three seasons, while Brown hasn't missed a game in his entire seven-year career.
Even though Sheppard's agent Drew Rosenhaus called out Brown on a YouTube video earlier in the week, Johnson didn't seem the least bit worried about a possible distraction.
"It can't concern me," Johnson said. "I've said this before: every time I walk onto the field, I see three excellent corners, actually four with (cornerback Joselio) Hanson, but I see three good corners. It gives me a lot of confidence. I don't even think about that.
"I just think about how we are going to match up and what we are going to do with these three guys. Every day I walk out onto the field, I'm glad to see all three of them out there."
Johnson also complimented Sheppard and his attitude on the field.
"I see a guy competing and playing hard. I don't even think about it. I don't let that outside stuff get me. I keep saying it, but I'm glad to see him on the field every day; him, Asante and Sheldon walk out."
According to Johnson, having three solid corners could leave the door open for more blitzing and man-to-man coverage.
"The thing we have with those three guys is we have really good matchups," Johnson said. "We have three corners there who can cover a lot of people. We can maybe play some more man coverage, more man blitzes. That's the flexibility. We have a lot of confidence in those guys' cover ability. That's the only thing it affects."
Johnson did express concern surrounding defensive end Chris Clemons, whom Johnson said has fallen behind the learning curve of the rest of the team. Clemons missed most of training camp and the preseason due to a calf injury.
"Any time you're behind, it's because you don't get the reps on the field," Johnson said. "He's at least a couple weeks behind. It's going to take a little while, there's no question about it. We want to get him in there, especially on third-down situations. If it becomes a passing game and we have to give those ends a rest, he's going to get in there as a pass rusher."
Overall, though, Johnson said he was excited to see what this defense can do.
"I think everyone is anxious," Johnson said. "It's a long season. We don't get a chance to play that much in preseason. All of a sudden you get 60 or 70 snaps and a lot of things can happen.
"We want to find out what kind of pass rush we have. We want to find out what kind of turnover team we are. I think we are going to be a good cover team. There are certain things we want to find out and you don't find them out until you maybe play 60 plays in a game."
MORNHINWEG: SHUFFLING THE DECK AT RECEIVER
Yeah, Marty Mornhinweg is ready to say it to DeSean Jackson, too.
Mornhinweg confirmed Thursday what was basically cut and dry a day earlier: the rookie will start at the Z receiver spot, the flanker, Sunday against St. Louis if Reggie Brown cannot play because of his hamstring injury. Though injuries to Brown and Kevin Curtis necessitated the move, Jackson's play has almost demanded it.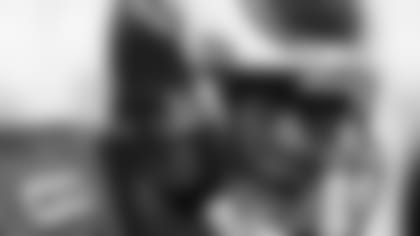 WR Reggie Brown
So, Mornhinweg said, he's anticipating more of the same from Jackson's preseason performance.
"We expect a lot from all of our players on the field," he said. "We expect all of our players that are on the field to play very well during any football game. When he's on the field, I have high expectations for him and for his teammates."
It's unclear how much Brown will be ready to go on Sunday, if at all ("day-to-day," Mornhinweg said). Still, Brown is typically the Z receiver, with Curtis lining up at X (split end). Jackson's speed is better suited for the flanker, so it seems if Brown is ready to go, he'll be pushed to X. Brown did not practice Thursday.
With or without Brown, Mornhinweg says he plans to use a combination of players at the X, probably Hank Baskett and Greg Lewis, with Jason Avant patrolling the slot.
Mornhinweg said Jackson is ready to go mentally.
"I don't think you need to go there," he said. "He's in his element. I don't think he'll have any problems that way."
SEGREST: PREPARED FOR THE OPENER
What a difference a year makes. Rory Segrest went into his debut as the Eagles special teams coordinator with an unstable situation at punt returner and we all know what happened. Two muffs, including one with just over a minute to go in the game, allowed Green Bay to come away with a 16-13 win.
Segrest knows heading into Sunday's season opener against the Rams that he has a punt returner and a kickoff returner who can be both secure with the football and create game-changing plays.
"After that first game (last year), we didn't have any ball security issues," Segrest said. "It was a situation where we probably didn't have the most explosive return game. We were just solid in what we were doing. This year, we felt like we got guys who are going to be solid in terms of both ball security and being able to create some big plays for us. Right now, we're here at this point ready to go forward and we feel good with what we got."
The Eagles will trot out DeSean Jackson at punt returner and Quintin Demps at kickoff returner. Both of them are rookies, however, they enjoyed success at the college level and in the preseason. Jackson was fifth in the NFL in punt return average (12.5 yards per return), while was Demps was fourth with an average kickoff return of 36.4 yards. Oh yeah, each scored a touchdown in the preseason.
Segrest knows the preseason is not going to be the same as the regular season. He also understands that Jackson is going to start at wide receiver. The amount of snaps Jackson plays on offense could factor into how many punt returns he handles. Segrest doesn't think it'll be an issue, but he's prepared to go with Demps at punt returner if need be.
"I think he's in great shape," Segrest said of Jackson. "He's been working hard on his conditioning. I think he's going to be able to do both jobs here. It obviously depends on his number of reps at receiver. I know we got a few guys we will be rolling in there. It just comes down to that specific situation of whether he can or cannot go. Right now, we plan on using him as the primary punt returner.
"DeSean's a great football player. He's going to do whatever we ask him to do back there and do a great job at it. If, for whatever reason, he's too tired to get out there maybe in a punt return situation, we've got Quintin Demps whose readily available there, so we feel really good with where we're at with those guys."
Segrest may have youth on his side of the field, but the Rams have an old pro in Dante Hall handling returns. Hall is a two-time Pro Bowl selection, who returned four punts and three kickoffs for touchdowns between 2002-03. For his career, Hall has returned six punts and six kickoffs for touchdowns. Just last year, Hall averaged 15.1 yards per punt return and scored one touchdown.
"He's a really explosive returner back there," Segrest said. "He had a return for a touchdown last year in the punt return game. He's a threat every time he touches the ball. We have to make sure we are really disciplined in our coverage units this week."