Martin Luther King High School football's Junior Varsity Coach and Offensive Coordinator Jordan Alexander stepped up to the challenge when he was called on to fill in as head coach on Friday for the team's game against Benjamin Franklin High School.
He led King to a dominant 38-0 win against a conference foe – but that isn't a surprise. Alexander has been dedicated to laying the groundwork at the JV level since he returned to his alma mater as a coach, ensuring his students' progression as athletes and, most importantly, as young men through fostering a love for football. Alexander is the Philadelphia Eagles High School Coach of the Week, presented by Hyundai.
"To see the kids' faces, the kids excited, rallying around each other, was really, really great," he said, reflecting on the game.
Alexander played football at Germantown High School before it closed in 2013 due to Philadelphia School District budget cuts. When the school was dissolved, its students and teams were sent to combine with King – Germantown's sworn rival for decades.
"At first, we were a little iffy about it," said King.
Though it was a daunting circumstance to make teammates out of rivals, the inaugural football season of the mixed team ended up the school's best yet, making program history with Alexander at the forefront.
"When we got there, it ended up being a great experience. I was a captain on the team and we went 10-3, won the first championship in school history, and made it to the state playoffs," Alexander said.
After stints playing linebacker at Shippensburg and Delaware Valley University, he returned to his home turf, but this time, as a coach, propelled by both his experience playing football for King, and growing up in the neighborhood with few people to model his behavior after.
"Just being around in the neighborhood I grew up in, losing a lot of friends, friends going to jail. I kind of thought about the fact that growing up, we never had nobody to be there to tell us, you can do it this way. This is what you should do. We never had nobody," Alexander said.
"I thought, maybe I could be that person that can step into the role of some of these young men's lives and try to steer them in the right direction, away from jail or not being able to accomplish what they want to accomplish in life."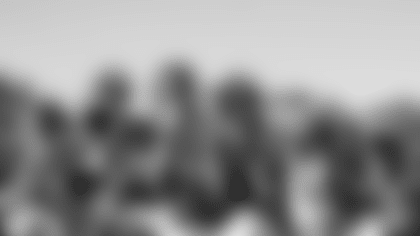 Now, he's doing just that at both the JV and varsity levels. And he's not just coaching, he's introducing the sport of football into the lives of young men from Philadelphia's Germantown neighborhood – many of which haven't been prevented from playing due to a variety of disadvantages, such as the lack of youth programming and pricey sign-up fees.
"Pretty much with my group of guys – the ninth graders – I usually get the kids that have never played football before. So at practice, I try to get those kids involved, so they can find a way to love football," said Alexander.
"Some kids can't really afford it growing up. You've got to pay a $125 registration fee, you've got to buy equipment, you've got to buy cleats, you've got to do the whole thing. But when you get into high school, playing for the football team, it's free. We have equipment. Sometimes we have cleats, so you don't gotta really pay as much. Plus, your neighborhood little league team might be two miles away from your house. But for the high school team, you're at the high school every day, you just go right outside and practice."
But even when students get to the high school level, there are more frustrations that mount, surrounding resources and finances. Alexander says it's one of the most troublesome aspects of his job.
"We're a public school, so we don't usually get the best equipment. We don't get the best jerseys. Sometimes we don't get our grass cut. Stuff like that is hard. Trying to keep the kids to stay focused. Like hey, I know we don't have your shoulder pads, I know our fields grass is up to our knees, and they haven't come in two weeks, but we are here for a mission and we'll do all we need to do," he said.
"That's probably the hardest part. We're not getting that type of stuff, and the kids see other programs outside the city get it. And they're like, well, why do they get it but not us? That, to me, is the hardest part."
Despite the difficulties, Alexander and the coaching staff have been able to use football as a tool to steer their students toward success in high school and beyond. Alexander finds the most satisfaction in watching his players flourish.
"It's saved a lot of kids' lives. Kids that were into stuff before they started playing football, will play football and completely be a whole different person," he said.
"The thing that brings me joy is coming in every day, seeing young men, and knowing that I'm saving somebody's life."