Brad Childress was pretty direct – there are things he certainly misses about Philadelphia.
Is it Brian Westbrook? Or Donovan McNabb? No. The media? Certainly not, Childress joked.
No, it's the crab fries. He requested that someone bring him some to Minneapolis for Sunday's Wild Card matchup between his Vikings and the Eagles.
"(I miss) the great collection of food, you know?" Childress said. "Boy, there are some great places to eat out there."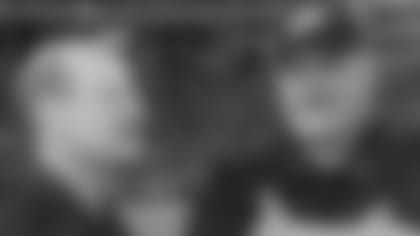 Head coach Andy Reid and Vikings coach Brad Childress last season
It was the lightest moment from Childress, the former Eagles' offensive coordinator, in his conference call with the Philadelphia media Wednesday. In many ways, Childress has taken a page from Andy Reid's book – he's taken a back seat when it comes to the storylines surrounding his team. But this week, his angle is going to be the one played up.
Childress, a third-generation student of the West Coast offense, will be making his first appearance in the playoffs as Minnesota's coach, and he'll get the chance to do something that Reid never had – a postseason matchup with his mentor.
And much like Reid does with Mike Holmgren, Childress keeps in touch with Reid. The phone calls are weekly, according to Reid. This week, they certainly had a little bit extra to talk about.
But the call still went through.
"You don't do that with everybody in the coaching business. You lose track of people sometimes," Childress said. "But our paths have crossed time and again."
For Reid, it's a special moment. Two former assistants – Childress and the Ravens' John Harbaugh – are taking their teams to the postseason. It's conceivable that Reid's coaching tree will blossom into one as impressive as Holmgren's, spanning multiple philosophies and geographies.
"I'm proud of those two and the job that they have done," Reid said. "The system has been tested over time not only here but other places. Everybody puts their own little wrinkle to it, but they've done a nice job of managing things it looks like, and both of them having very good ball clubs."
Childress' wrinkle is more of a canyon, though. Never in Philadelphia did he have a running back like Adrian Peterson, a veritable workhorse that demands the ball at all times and gets tougher as the clock wears thin.
Peterson, who led the NFL in rushing, has allowed Childress to run the ball more than he throws it, something that never happened during his tenure in Philadelphia.
But the "system" that Reid talked about might not just be the offensive philosophy, but how to run a successful organization in general.
"I think one of the things that I learned from Andy was you want good people," Childress said. "People that are wired the right way, that have good ethics and work hard."