Celebrity Corner appears each week during the 2013 season, featuring Eagles fans who have gained fame in their careers of sports, entertainment and popular culture. This week: Music producer Howard Benson, who has twice been nominated for a Grammy and who has worked with such artists as Daughtry, Kelly Clarkson, P.O.D., Hoobastank and Tuff to name just a handful. Born in the Philadelphia suburbs, Howard has been an Eagles fan for life. Connect with Howard on Twitter @Howard_Benson1
My father had season tickets well before I was born, before the Eagles played at Franklin Field. In fact, my first memory of doing something with my father was attending a Steelers-Eagles game at Franklin Field. Our seats were at the 5-yard line on the sunny side of the stadium, and we were lucky for that, because Franklin Field was always freezing. We were lucky enough to go to the first night game, when they brought in lights, and it is just a wonderful memory that I have.
We had eight seats at Veterans Stadium and we sat with the same people through the 30 or so years the Vet was in business and we saw kids grow up and it was like we were all a family. We were in Section 352, which was about the 30-yard line, and we were about two rows down from the balcony, so we never got wet when it rained. It was such an important part of my life, to go to Eagles games with my family and to enjoy our Sundays together.
My father passed away about a year and a half ago. As we mourned, we thought of all of the Eagles games that we attended together, because the Eagles were what bonded us all together.
I've lived in Los Angeles since 1980 so I've gone to great lengths to follow the Eagles. Before the Internet, I would have my family mail out the Philadelphia Inquirer each Monday and when it arrived on Wednesday or Thursday I would read it and pass it along to other Eagles fans, just to read about the game that was played on Sunday. Now, I can follow every day. I watch all of the shows on PhiladelphiaEagles.com and am so thankful that we have technology in place and that the Eagles make it so easy for fans like to me follow along. I've got the radio in my car programmed to WIP, and when people get in my car and hear about places like Norristown and Bryn Mawr, they're like, "Wait, those places aren't in L.A.!"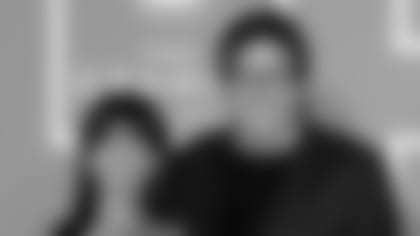 I still have four season tickets, so my family that remains back in Philadelphia goes to every game. I will get to a couple of games every year and in fact when I make trips to go back to Philadelphia, the first thing I do is look at the Eagles schedule and plan to see a home game.
I will be there on Sunday to see the Eagles play the Giants. I'm excited about having Chip Kelly as the head coach and I understand where he's coming from. I've watched his press conferences and I think I get him. Being a record producer, in a weird way, is like being a coach in the music studio. I've been fortunate to win a lot in the record-producing world, but that when you lose, you have to keep your cool. You have to keep the big picture in mind. I like the way Chip is so open and the way he discusses the game. I loved Andy Reid and I thank him for all of the wins, but I never had the feeling that I knew what was happening with the football team.
Chip has the bit between his teeth right now, and my sense is that the loss to the Cowboys was extremely frustrating for him. He didn't see it coming. He has high goals and is a winner, so to go through the ups and downs with his new team is testing for Chip.
I sometimes wear my Eagles jersey to the studio, and it raises an immediate reaction. Everyone is a fan of some team, and I've been amazed through the years to see how many Eagles fans there are out here. I remember going to a game when the Eagles played in Arizona, and the airport in Burbank, Calif. was a sea of Eagles green with all of these fans going to see the game. I was so impressed and I feel so comfortable being around all of these Eagles fans.
I have two children who are, of course, Eagles fans. That was not negotiable in our parent-child relationship. It's fine for me if they want to like the Lakers or the Dodgers, but they were going to love the Eagles. Fortunately, that hasn't been a problem. They fell in love during the Donovan McNabb years, and they desperately want to get back to winning football games again.
I'll be there on Sunday, cheering on the Eagles. I'm so excited to be part of the scene, to be part of something that has been such an important part of my life since I was a little boy.