My love of the Eagles goes back as far as I can remember when I was a kid in Harrisburg around a family that also loved the Eagles. My favorite player of all time is Harold Carmichael, but I also loved Wilbert Montgomery and Ron Jaworski and I've loved them since I was a kid.
I remember that my parents bought me a Philadelphia Eagles helmet, and that was so special to me. My brother was a Cowboys fan, so we've had a rivalry since we were little kids and it's made being an Eagles fan even more special.
I travel a lot with the Globetrotters, but I never miss an Eagles game. We were just in Australia and I had to get up at some weird hours of the night to watch the game. We were entertaining the troops in Iraq and I got up in the middle of the night, at 3:30 a.m., to watch a game. I was the only member of the Globetrotters up at that hour, but I watched along with other Eagles fans from the military, and it was a special moment.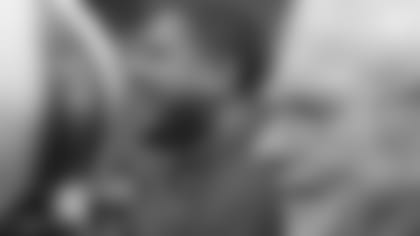 We've also had our share of connections with the Eagles and Harrisburg. One of my athletic heroes growing up was Ricky Watters ….
LeSean McCoy is so popular in Harrisburg and everyone is proud of what he's done. We all knew he would be something special. You could see it when he played in high school and he's carried that through. I am friends with LeSean and try to help him with his many community ventures in Harrisburg, and that's what I respect most about him. He gives back so much to Harrisburg and we all try to support him whenever possible.
He does a lot for the kids, and he does so much for those in need without looking for any recognition. I love him as a person. As a player, I think he's the best running back in the NFL, but what makes him special is what he does away from the game.
LeSean broke the records that Ricky Watters set in Harrisburg, and both have represented our area well. As a kid, I will never forget playing basketball with Ricky at our YMCA when I was a kid and he was at Notre Dame. He spoke to us about his desire to go the NFL and be a star and it resonated with me.
When I saw Ricky starting with the 49ers early in his NFL career, and then spent some time with him when he returned to Harrisburg, that made a huge impact on me. I always loved the Globetrotters and wanted to be part of this team, but to see Ricky achieve his goal and then to come to Philadelphia and play with the Eagles, that brought it all home. That, in a way, helped me believe that achieving my goal was possible, too.
As for this Eagles team, I'm excited. I'm sure everyone is excited about what Chip Kelly has done and what direction the team is headed. Our offense is so powerful and explosive. That style of play is so tough on a defense.
I'm happy with our prospects. I think we can win the division and make the playoffs, so the idea of going to Dallas and winning there to get into the playoffs and knock the Cowboys out of the picture, that would be a great way to end the regular season.
I try to inspire kids as a member of the Harlem Globetrotters like I was inspired as a kid by people like Ricky Watters and the Philadelphia Eagles. We are in our 88th season of Globetrotters basketball and I cherish every minute that I'm here. I'm honored to be a part of it.