Celebrity Corner appears each week during the 2013 season, featuring Eagles fans who have gained fame in their careers of sports, entertainment and popular culture. This week: Kevin Negandhi, ESPN SportsCenter anchor. Follow Kevin on Twitter @KNegandhiESPN.*
I remember very early a connection I had with the Eagles. It was with my dad and older brother. My family is from India – and I was the first in my family to be born in America – and as a kid the only way I could really impress my dad was to know something about the Eagles so I could create a conversation. The whole family would watch the games on Sunday, and I remember in 1980, when I was 5, my mom found a way to distract me while my dad and brother left. I found out later that they went to the Raiders-Eagles regular season game at the Vet (the teams, of course, met in the Super Bowl later that season). Years later, I would bring it up to my brother and dad, how I never forgave them for it.
Needless to say, my love for the Eagles goes back a long time and it is deep for me. Every fall Sunday morning, when I was 8, I would grab the sports page of the Inquirer and memorize stats so when I would hear my dad yelling at the screen at Jaws during a play, I was ready to tell him that he's not a "bum" and here's why.
My wife is from Florida and she's a Gators fan and she has adopted the Eagles through me. There are times when she will come up to me and say, "How can you go through this every Sunday? Why are you doing this to yourself? They keep breaking your heart?" I told her I don't know any different. This is just life as a Philly fan. And I told her the payoff will be the same feeling as in 2008 when Brad Lidge recorded the save in Game 5 to win the World Series. The Phillies played some bad baseball in the 80s and 90s and when they finally won and she was watching me cry, she knew what it meant. I told her, "can you imagine what it's going to be like if/when the Eagles win the Super Bowl and have a parade? It's going to be unbelievable! It will triple the crowd on Broad Street when the Phillies won."
We all understand to a certain extent Robert DeNiro's character in Silver Linings Playbook. The entire time my wife watched the movie, she shook her head and laughed. She now gets it. She loves her Gators the way I love my Eagles.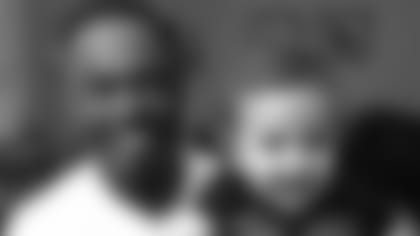 Through my job, I've had the chance to meet quite a few former Eagles like Vai Sikahema (whom I interned under). I've done many SportsCenter segments with my guys Brian Dawkins, Herm Edwards, Jaws, Eric Allen and Mike Golic. They get the passion. Every so often, I bring up a play or a moment from when they played which I fondly remember and ask them about the situation. I feel lucky to be able to do that.
Tonight is the opener for 2013 on ESPN. I've been building my basement all summer into a mancave in anticipation of the season. A buddy of mine who is from Philly is coming over and he's an Eagles fan and we're going to watch the game. I can't watch Eagles games in bars or loud environments. No distractions. I've got a big screen, surround sound and I'm going to have my bar open with all my Philly stuff dominating the room. My 16-month-old son will be wearing his LeSean McCoy jersey. I'm excited to be carrying out that bond with my son, that watching Eagles football is an important part of the process, something I shared with my dad and brother. God Bless my mom and wife. They have watched me go through the entire emotional spectrum on Sundays.
I'm very curious to see what this offense is going to show us. I don't think we've seen anything close to what Chip Kelly has in his mind for the design of the offense. I'm sick to my stomach about the defense, based on what I've seen in the preseason, and it would not surprise me to see a lot of shootouts this season. I'm preaching patience. The next two years will be a process to get the roster right for Chip.
Robert Griffin III had two very good games against the Eagles last year, so I've had a knot in my stomach about this matchup for quite a while. We will see how it all comes together tonight.
One other thing: I've been to a couple of Super Bowls in my life and had the chance to go to this past Super Bowl in New Orleans. I turned it down. My last Super Bowl was when the Eagles played in Jacksonville and I walked out of there so sick, so ticked off because the Eagles were so close, that I've vowed to never go to a Super Bowl again unless my job requires that I go. It was so hard to reach the Super Bowl, and then to fall short the way the Eagles did. I don't think I could put myself through that again.
So what happens when the Eagles go back again? Hmmm. I don't know if I will go back. I don't know if I can. I don't know if I have the stomach for it. That's how emotional I am about this football team. That's how much the Eagles mean to me. I've had people tell me that I would go if it happens again, but I don't know. Still stuck in my mind is the loss in Jacksonville and the loss to Tampa Bay in the final game at the Vet. That was the worst experience I've had as a fan in my entire life. I just can't shake it. I still feel the pain with my brother and we never talk about it. The 44-6 win over the Cowboys (I never had a better time watching a game while talking to my brother on the phone yelling), beating the Falcons in the NFC title game and 4th-and-26 are all great, but the pain of the losses outweigh the joy of the victories.