Celebrity Corner appears each week during the 2013 season, featuring Eagles fans who have gained fame in their careers of sports, entertainment and popular culture. This week: Carl Lewis, a former Olympic great who won 9 Gold medals and 10 overall, who was named "Sportsman of the Century" by the International Olympic Committee. He is currently a United Nations Goodwill Ambassador who is scheduled to visit Ghana to mentor young athletes.
I grew up in Willingboro, New Jersey and have been an Eagles fan forever. The first quarterback I remember following was Roman Gabriel back in the 1970s. I got into the Eagles at that time and it hasn't stopped for me.
My career in track and field has taken me all over the world, but I've always managed to watch virtually every Eagles game, whether in person or on television somewhere. I have the Sunday Ticket for when I'm at home, and when I'm not, I find a way to keep in touch with the team.
It's interesting to have the opportunity to express how I feel about being an Eagles fan for all of these years. It's been a wonderful journey, but as we all know, the fact that the team hasn't won a Super Bowl has made it frustrating, too. It seems like every time we take two steps forward, we take a step backward. We take a shot that puts us off-track, and it takes time to recover.
I've enjoyed the ride, because the Eagles have been exciting. I enjoyed the Ron Jaworski years. I enjoyed watching Randall Cunningham and having Donovan McNabb as the quarterback was very rewarding.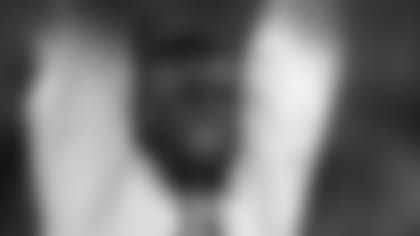 What's missing is the championship. From my perspective, there are a lot of reasons why the Eagles haven't won a Super Bowl. We had the great defense in the early 1990s and then Randall got hurt. We had moments in the early 2000s when we were close, but we couldn't get over the hump.
I think the fans, who are great and who love the team and who are devoted, look at the team critically at times and maybe they are too touchy. The fans aren't unfair at all. But I think that athletes are sensitive by nature. And when you combine that with the attitude of Philadelphia – a city that prides itself on being an underdog – you can sometimes create negativity, and when that happens, the players are impacted.
To win a championship it takes a lot of skill, preparation, luck, a bounce or two and, at times, overcoming a bad game. That's just going to happen. Philadelphia needs to appreciate what a great city it is and translate that positive energy to the players.
I watched the loss to the Chiefs and it was disappointing. No question about that. But the day after, listening to people and reading things, the players and coaches got blasted. That doesn't help a team win. There are going to be growing pains here. Chip Kelly deserves some time to develop his football team. I think there are times when the City doubts itself and the fans mask that doubt in passion.
Where does this team go this season? I expect ups and downs. I am evaluating every play of every week and the coaches have to determine what works and what isn't working. This is a team that had a tough game against Kansas City, but that is still in the game in the NFC East and has to correct things.
My background as an athlete gives me a different perspective from most fans and I understand that. I always take an optimistic view, because I know that when you are prepared the right way, and when you make adjustments when things don't go your way, you can focus on that aspect of sport, rather than the emotion of it.
I look at the Eagles the same way. It's like a business. The best businesses have bad weeks, too, but they figure out what went wrong and they fix it. I have a lot of faith in Chip Kelly. I like the approach he takes and I like the fact that he makes no excuses. He's got this team on the right track, but it's going to take time.
I am an Eagles fan and I will be an Eagles fan if they are 0-16 someday. I won't like it, but I will still be a fan. We have a great City and we have a lot of pride. We need to project that to the players and to the team, and we will all enjoy the positive results.