We've gone through four preseason games and an entire summer of work to get to this point, and a lot of things change once the regular season arrives. Everything gets ratcheted up a couple of notches around here. The locker room has changed a lot with fewer players here and that's unfortunate. You reach that final preseason game and then you know what's about to happen over the course of the next several days: A lot of great guys and great players are not going to be here. It impacts everyone. You are reminded not to take this profession for granted.
But we all know what life is like in the NFL, so our attention has turned to the regular season. I'm so excited to begin my regular season career as a Philadelphia Eagle and even more excited to do so on Monday Night Football. I think playing on Monday night is a lot different than a Sunday game at 1 p.m. Everyone's eyes are on you – not only family and friends, but everyone around the league. Everyone watches the prime-time games – peers, coaches, former coaches, former teammates and friends around the league. My energy level is higher for a Monday night game.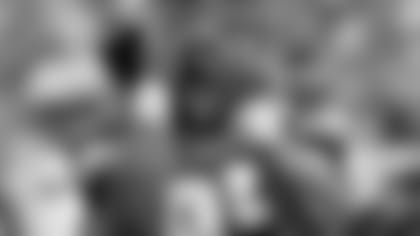 I've probably played in four Monday night games from my days in Houston and it takes some time to acclimate to the experience. I'm a big NFL fan, so I watch as much as I can. When you play on Monday night, you end up watching quite a bit of football on Sunday, and then you have all day on Monday to wait before you have your opportunity to play. That's a unique situation that players have to understand how to handle. You don't want to get flat.
I think having the four preseason games all being played at night, and then coming right in and playing at night on Monday, is going to help us. We haven't played a string of 1 p.m. games, so it's not like we have to change up our routine at all. We're going to keep basically the same schedule we've had throughout the preseason.
I'm feeling great after having an injury in the final preseason game against the Jets. When it initially happened, I thought, "Geez, I hope everything is OK for when the regular season starts," because nobody wants to get hurt in the fourth preseason game and have it affect him in the regular season. Fortunately, everything is fine and I'm ready to go. I've had a great week of work.
Washington is going to be a great challenge. They won the division last year and they have a lot of pieces on defense. They want to put pressure on the backfield. They've got a really good group of linebackers and ends, and those are primarily the players I study as a tight end. London Fletcher has had a career that everyone respects. He's been so great for so long, and he's still playing at a high level. Brian Orakpo and Ryan Kerrigan are very disruptive players coming off the edge for Washington and they play a great scheme. It's definitely going to be a big challenge for us.
We're excited to see how the offense performs on the field together for four quarters. It's time to come out of the gates and play great football and get the season started the way we want.