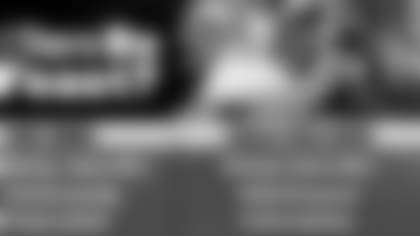 Certain words and terms are repeated over and over again during an NFL season. Yards. Coverage. Matchups.
For the Eagles' defenders, the term of the year has been "X-plays."
X-plays, or explosive plays by the opponent that go for 20 or more yards, have been one of the thorns in the Eagles' defense this season. So far this season they've allowed 54 plays of that magnitude, the third most in the league.
Defensive coordinator Bill Davis said that he's not willing to accept that his defense will give up X-plays as long as the team is winning. His unit still has room to improve with regard to the home run plays, he said, and he expects his players to get better at stopping them.
"I'm not conceding that (we give up X-plays)," Davis said. "We're going to stop the X-plays. Somehow, some way we're going to find a way to get those X-plays off of us because it matters."
Davis said there are two big keys to the defense helping to win games: generating turnovers and eliminating X-plays.
"So we continue to talk about it, stress it," Davis continued. "We haven't gotten it done yet, but that's a focus that we have to get done."
Against a Dallas offense teeming with talent, Thursday's game will pose a good chance for the defense to make a statement and turn a page with regard to the X-plays. With the opponent executing the majority of the killer plays through the air, the Eagles' defensive backs know the onus is on them to help limit the home run balls.
"Dallas has a bunch of home run hitters, a lot of talented guys," safety Nate Allen said, "and they definitely have that home run ability."
This week, the Eagles' corners will have to stick to their receivers, plaster them, especially when quarterback Tony Romo begins to scramble and get mobile in the pocket, in order to limit those X-plays.
When he extends plays, Allen said, the play tends to lend itself to big chances for the offense.
"He's got a lot of playmakers, and with those guys, when he gets out of the pocket it basically turns into sandlot football," Allen explained. "We as DBs, and even linebackers, have to plaster in coverage and just not let them get the ball down the field."
When Romo's looking downfield he's often looking for wide receiver Dez Bryant, his favorite target and a well-known playmaker. Bryant has caught 12 passes for 20 or more yards this season, four of which resulted in touchdowns. So the Eagles know they have to be on top of their game against the fifth-year wideout.
"He's a vertical threat, and he's a threat when he has the ball in his hands," Allen said. "We've just got to get as tight in coverage as we can."
Cornerback Bradley Fletcher said the defensive backs can't worry about Romo when they're covering Bryant, or any of the Cowboys' weapons, if they want to limit the big plays. They just have to prepare to make a play when the time is ready.
"We need to make sure we're on top of our leverages, techniques and making a play when it's on the way," Fletcher explained.
"We've just got to stay with our man downfield, stay in coverage, and we all know the pass rush will be on the way. We've just got to do what we do on our end."