Right now, there's no clear-cut starting quarterback for the Eagles. With apologies to G.J. Kinne, it appears that Mike Vick, Nick Foles, Matt Barkley and Dennis Dixon are the primary competitors in the race to be named "QB 1" and all indications are that the victor isn't likely to be declared for a while. It's possible, Foles said Monday, that we may not know who the starting quarterback is until days before the season opener on September 9.
With head coach Chip Kelly's practice regimen, each of the quarterbacks will have plenty of chances to impress over the next few months. Vick and Foles split most of the first-team reps during Monday's Organized Team Activity (OTA), which featured a session in which all five quarterbacks were throwing to receivers simultaneously. As practice rages on throughout the spring and summer, so will the competition, and the quarterbacks wouldn't have it any other way.
"That's what this game is about," said Vick. "There are always going to be guys who are getting drafted. There are always going to be guys behind you who are going to push you, or they're in front of you and you have to push them. So, that's the name of the game. You can't become complacent.
The thing is, none of the quarterbacks is focused on being what everybody wants right now. We have to learn this system, understand it. We have to be able to go out and do it each and every day and get better every day before somebody is thrust into that position. We all feel like we can do it and we should feel like we can do it. I feel like I can do it. But I know there's a lot that I have to learn and I want to get all the intricate parts of this offense into my grasp and then once I do that then I can just go out and play free."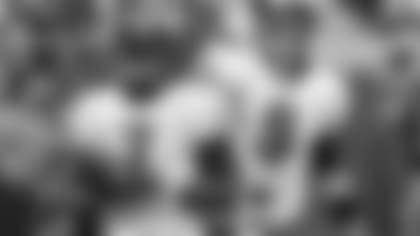 Foles, who wrested the starting gig from an injured Vick at the end of his rookie season, said that the battle ahead is one that will benefit all of the quarterbacks.
"Every day we're here working," Foles said. "I think we have a great quarterback room, a great quarterback coach and we're all working together to push each other to be better players. So whoever ends up being the quarterback of this team, the other guys are going to cheer him on and we're all on the same team. We're all going to work together. Each guy on this roster wants to start for this team but you have to go to work and it's up to the coaches."
Niceties aside, Vick and Foles (and Barkley, for that matter) believe they will be the one to earn the starting job.
"That's my goal," said Foles. "In my heart, that's what I want to do and I have to show it on the field, I have to prove to my coaches that I can do that and every single quarterback on this team that's what our goal is."
"In my mind and my heart, I'm going to always feel like I'm a starter in this league I think until the day I can't run anymore or I can't throw anymore," said Vick. "I think the mindset you have to have is that you're going to be the No. 1 guy and that's the approach that you have to have and I feel that way. So I'm going to continue to keep working hard. Nick is going to continue to keep working hard. Dennis is going to keep working. We're going to keep pushing each other, keep competing and keep competing with ourselves most importantly."
What impact, though, would it have on the rest of the team if a starter isn't named until shortly prior to the regular season? Well, remember that Vick's finest season as an Eagle came in 2010, when he went into the season as the No. 2 quarterback.
"Whoever coach chooses as a quarterback to lead this team," said Foles, "no matter who it is, the system will work for any quarterback on this team."