The St. Louis Rams' final box score from Sunday's 38-3 loss in Philadelphia has somewhat of an anomaly. If you didn't know better, it'd look like a Canadian Football League box score.
Meaning if the Rams didn't get 10 yards during their first two downs, chances were they would be punting.
A constant stream of pressure from the Eagles' defensive line kept superstar bowling ball Steven Jackson in check, while quarterback Marc Bulger had little time to throw to receivers that were seldom open in the first place. The result: an 0-for-11 showing on third down, and a 38-3 loss. Not exactly exclusive of one another.
"You want to take care of the first thing, and that's the run," defensive tackle Mike Patterson said. "They have an excellent offensive line and whatnot, but … a lot of things worked out our way."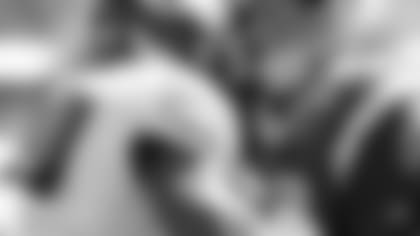 DE Darren Howard lays out QB Marc Bulger
Patterson provided a lot of heat up the middle. He garnered a couple tackles and a half-sack, but the disruption was the key. Jackson was never able to get going, gaining just 40 yards on 14 rushes, and Bulger couldn't force defensive coordinator Jim Johnson to scale back blitz packages by hitting receivers downfield.
The Eagles threw the kitchen sink at Bulger from all levels of the defense, getting two sacks from the line and one each from the linebackers and secondary.
"We had a really good mix today," said Darren Howard, who took reps at both defensive end and tackle Sunday. "Jimmy had a great plan for the game: getting pressure on the quarterback and just keeping our gameplan intact and their offense off the field."
The trademark rotation was in full effect for the Eagles, as well. All eight active defensive linemen saw action, and all made an impact in some way, including a third-down pass deflection from Chris Clemons in his first action as an Eagle.
That, and a quick start offensively – two touchdowns in two drives – allowed the crowd to get behind the defense, which end Juqua Parker acknowledged by "raising the roof" prior to each defensive series.
The Rams had their fair share of false start penalties, pushing them further away from the first downs they struggled to get in the first place.
"We made a lot of adjustments and had some protection plays put into place, but the Eagles are a defense that gets behind the crowd," Bulger said. "They thrive off that and we just could not do the things we wanted to do."
That's why next week's game is a different beast for the defensive line, against a much healthier and more experienced offensive line, and in hostile territory at Dallas. But the building blocks are there.
"The D-line was great. We went out there and we got it done," defensive end Trent Cole said. "We're just going to build upon this, stay humble, and get ready for the big test come Monday against Dallas."