Cary Williams has gotten all the headlines recently, but he's not the only free agent cornerback the Eagles imported this offseason. In fact, Bradley Fletcher was the first cornerback the Eagles signed in free agency as the team went out of their way to nab the former St. Louis Ram on the opening day of free agency.
Fletcher, who turns 27 later this month, spent the first four seasons of his career in St. Louis, where he started 26 games. With all of the attention focusing on Williams' travels and personal decisions over the last month or so, it's easy not to notice that Fletcher has been at the NovaCare Complex all along working, almost exclusively, with the first-team defense.
"We're all here to play ball, all here to get better, so I don't get too caught up in all that stuff," Fletcher said Wednesday, referencing the commotion surrounding Williams' occasional absences from practice. "We're all here to get better and make plays, so that's what we're trying to do and we have a little more time here before break."
Fletcher, 6-0, 200, has worked, at times, alongside Williams, Curtis Marsh and Brandon Boykin with the first-team defense throughout the spring. Fletcher has been moving around the defense though, as he played left cornerback across from Williams on Tuesday before the two switched sides Wednesday.
"I've been playing both sides for a long time so it's not a big change to me," Fletcher said. "Either side coach wants me to go, I'm ready."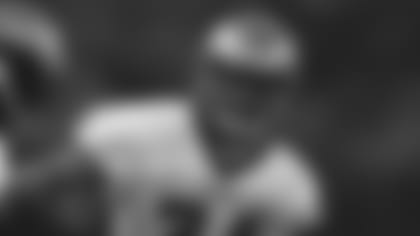 Fletcher has undergone coach and scheme changes in the NFL before but this is the first time he's had to acclimate with an entirely new set of teammates.
"It's great," Fletcher said. "I have a fresh start here, able to meet a lot of new guys, a lot of new coaches and we're all jelling right now. I'm very excited to see what we're going to get here in camp."
Fletcher, meanwhile, agrees with the sentiment state by Williams that while the offseason activities have been valuable, Training Camp is when we'll find out more about what to expect from the Eagles defense.
"We can go ahead and press when the time comes and mix it up a lot like that," Fletcher said. "We're all going to get better on our technique and that time will come in Training Camp.
"I've been a press corner, but I'm always willing to play off and especially in some schemes you need to play off. So I have no problem playing either one but I've definitely been a press corner over the years."
There has been one major change for Fletcher in Philadelphia compared to his time in St. Louis which relates to the offense he's lined up against every day in practice. Simply put, Fletcher has never practiced with the pace at which the Eagles now conduct practice.
"What I'm learning from coach Kelly is we're going to work hard and we're going to be in shape and we're going to be competitive," Fletcher said. "Those are the things that we're going to do when we hit the field and I'm very excited to play that.
Hey, we're going to be in shape, I'll tell you that. We're going to be in shape once we step on the field with another team."