I think stopping Atlanta's run offense will be critical to beating the team. They can get a lead and run the ball, keep their quarterback comfortable and they have speed. Any quarterback appreciates a good running game. It keeps defenses honest, you can't blitz quite as much. It slows the game down a little bit as far as how aggressive you can play.
I think Falcons running back Michael Turner is a fast guy. He's strong and keeps his feet moving, so he's a tough guy to bring down. Quarterback Matt Ryan is accurate, makes good decisions, he's pretty mobile in the pocket and he gets the ball out quick.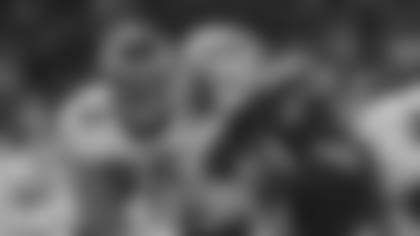 LB Stewart Bradley
The key to containing Atlanta's receivers is to try to get them off-schedule. If we can shut the run down and make Ryan throw the ball and possibly get aggressive with our packages, then hopefully we can disrupt his timing a little bit.
In the fourth quarter in San Francisco, I think things kind of started clicking finally. The came at us the first half and in the third quarter with some different looks - running a lot of screens and hand backs, different plays that you wouldn't necessarily see with a more conventional offense. Once we got the hang of that, we pinned our ears back and got aggressive.
It's good having a bye. Obviously, all teams have a bye but I think you want to have it closer to Week 8 than in Week 2 or 3. It gives you a chance to get away, get rested and get people healthy and that was big for us. No one's dragging; everyone's fresh. We were ready to get back into it. It was a good practice Wednesday. Everybody was flying around.