I think running the ball effectively is different from passing the ball effectively. You can ask anybody, you can ask offensive linemen, it takes so much more out of you to run the ball. When a team is running the ball effectively, especially on defense, you got guys attacking you, as opposed to the other way around. That's going to take its toll on a defense. Not only that, it makes them have to respect everything you do because if they know you can run the ball and pick up four, five, six yards at a time, you don't know what's going on. They can dump off a screen, they can bust big and do play-action, they can just drop back. It makes it to where it discombobulates the entire defense. The entire unit doesn't know what's going on. The mentality of a running back, a receiver, anybody that carries the ball, is 'Put the game on my back. I can get it done.'
If we didn't have guys like Correll (Buckhalter) and Brian (Westbrook) in the backfield, I would be disappointed that the ball has been taken out of Donovan McNabb's hands at the end of games. The fact that they have both gone out and have gotten chances to prove their worth individually this season, it's hard to question a call like that. I really didn't mind it, personally. We have more weapons than most teams, I believe, in the league. There's a lot of guys that could have gotten the ball that we felt like could just have gotten it done. But football is the ultimate team sport. Everybody has to be on the same page and obviously there were a couple of instances last Sunday where everybody just wasn't on the same page. That wins or loses ball games for you.
Everything is a habit. Winning is a habit. Losing is a habit. You have to have that confidence that you know, because when you've been in certain situations and you've succeeded, it makes it easier the next time and the next time. To say that the next time a short-yardage situation happens, we're not going to come up and think about the times we didn't get it is a lie. But I think in this situation, it's not going to work in a negative way. It's going to make us hungry, like 'I'm not about to let this happen for a third or fourth time. We're going to have to get it right now,' and that's how you start building confidence.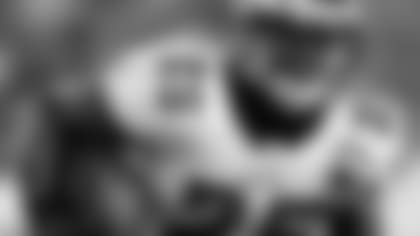 RB Lorenzo Booker
You're never as good as they say you are, but you're never as bad, either. You have to keep it at a happy medium. The fact of the matter is that all of our goals are still attainable. At the end of the day, that's all that matters: Get in the playoffs. Sure, you could win your division and get a bye week. Dallas did it last year but got knocked out in the first game. A lot of teams do that and get knocked out in the first game or the second game. New England went undefeated and it didn't matter. They lost in the Super Bowl. In this instance its just focus on the next set of weeks and it starts with this one, which is Cincinnati.
Having a winning record but still being surrounded by negativity is tough. My man Leon Washington with the Jets always told me at Florida State, 'Control the controllable.' The only thing you can control is to make sure you are working every day and going out and making the plays that you get a chance to make. You have to let the chips fall where they may after that.
I went through getting deactivated last year for half the season, so it was nothing new when I was deactivated last week. I just try to learn from every situation. I had a chance to sit back and really watch Correll and Brian without having to keep my mind in the game wondering who's going in, who's coming out, be ready for this. I got a chance to watch two backs go out and do their thing. You try to learn as much as you can because you're going to need all that experience when you get your chance to play.
Correll and Brian understand the game more than a lot of backs, more than most backs I've ever been around. They really understand what's going on in terms of the defense and the fronts they show. They don't wait on Jamaal (Jackson) or Donovan to give them a call. They know it's coming before it happens.