PITTSBURGH -- Brian Westbrook, finally rewarded with the green he had been looking for, was trying to keep his uniform white.
The star running back agreed to terms on a brand-new six-year deal Friday, just hours before the team's preseason opener. Optimistic about getting a deal done once training camp started, he'd never threaten to sit out the game against the Steelers. But he wasn't playing anyway.
It took a while for Westbrook to get his deal finalized, so Andy Reid held him out. Coach's decision. The last thing the Eagles need now is Westbrook injured. Or perhaps Westbrook is still feeling the effects of a viral illness that held him out of practice for a few days. Either way, he was getting some extra rest.
But his teammates weren't going to let him off the hook completely.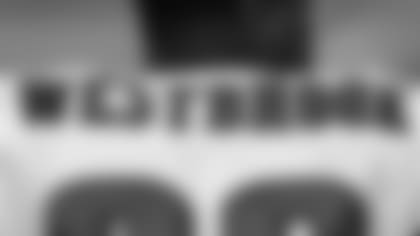 RB Brian Westbrook
"I was doing a great job of trying to stay clean," Westbrook said. "My guys, my offensive line, came over and showered me with some grass."
Westbrook hadn't made it a secret recently that he felt he was underpaid. The five-year contract he signed in 2005, he said, didn't compensate him adequately as one of the top running backs in football.
But here's the thing: it wasn't just talk. The numbers backed him up. His 2,104 yards from scrimmage led the NFL in 2007, and he even missed a game. And numbers like that don't just stand out, they scream.
But the Eagles have no problem making players happy when they deserve it, chairman/CEO Jeffrey Lurie said. So getting Westbrook his due wasn't an annoyance, it was a priority.
For Westbrook, too. He fired his longtime agent, Fletcher Smith, and hired Todd France. And since the hiring of France, negotiations with Eagles president Joe Banner have been frantic. Just frantic enough to get things hammered out before gametime.
"I wanted to try to get this thing behind me so I could focus more on the season," Westbrook said. "I'm glad that Joe worked with my agent very well and they were able to get things accomplished."
And though it's Westbrook's manpower that built the road to this outcome, someone still needed to travel it. It's Banner and France, Westbrook said, that navigated the bumps. But still deeply interested in the process, Westbrook gave France the directions.
"I defer to Todd a lot, I allow him to do a lot of those things," Westbrook said. "Basically it came down to him or Joe, sitting in the room or on the phone and just trying to hammer the thing out."
Funnily, it might not be Westbrook who's the most relieved. Westbrook's services on the field are much more than a simple luxury, much more than a security blanket. Lose him, and lose momentum. Think driving uphill in first gear.
"I think (the signing is) tremendous," Reid said. "It tells you that he's a special player, and he's great for our football team, for the organization, and also for the city of Philadelphia."
So now, it's time for football. The deal not only provides immediate security, it makes it easier for Westbrook to "hopefully," he said, retire as an Eagle. Many more opportunities to get that uniform dirty.
"I'm definitely blessed."