FOXBOROUGH, MA -- In Shawn Andrews's first game back he was pulling, blowing up linebackers and getting out front of screens - just like he has for the past four seasons.
Most of Brian Westbrook's 39 yards on the ground came on runs to the right side - behind Andrews and tackle Jon Runyan.
Beyond proving to his teammates that he was ready to play after missing all of training camp due to his bout with clinical depression, Andrews had a few goals of his own when he took the field in Friday night's 27-17 win over the Patriots.
"First of all, I definitely wanted to show that I still have fundamentals and I still know my plays and protections," Andrews said. "I also wanted to use this game as a measuring stick for my conditioning to see where I was and where I need to get."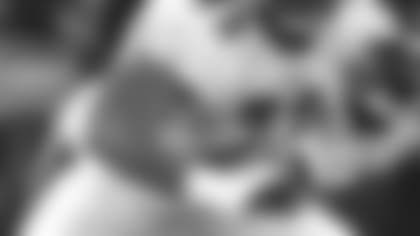 Pro Bowl G Shawn Andrews
Andrews' night came to an end when Max Jean-Gilles replaced him halfway through the second quarter. Head coach Andy Reid saw what he wanted from Andrews, so there was no need to push him further just yet.
"I saw enough and got him out of there," Reid said. "He got good work in. He might be a little sore tomorrow."
In addition to the stability of his personal life, there was concern that the time Andrews missed would affect the chemistry of the offensive line. Friday's game proved that it would take more than a missing training camp and two preseason games to erase the continuity Andrews has built with his linemates over the years.
"It was just like old times, for the most part," he said. "Of course, there are some things we need to iron out as a group and we are going to get them ironed out."
Runyan didn't notice anything different in the play of Andrews, which he thinks is a good thing. The line needs time together again more than anything.
"There wasn't anything missing," Runyan said. "We have to go back to the film and make sure all the techniques were right and all that kind of stuff. That's what you wondered about when you have time off like that."
Another concern was that the two-time Pro Bowl guard would not be in proper game shape, physically or mentally, without having practiced more than a week. Being his toughest critic, Andrews knows where he needs to improve and has the time to do it.
"I was very pleased, with the exception of a couple of plays," he said. "That's something we're going to work on. We didn't work on it much, but that's not an excuse. We are going to get better."
Donovan McNabb knows the importance of Andrews facing live competition and allowing the big, yet nimble man to "get his feet up under him."
"It's a little different than practicing everyday," McNabb said. "That's the part that's going to take some time, but it's just like riding a bike. Once you get your feel, you'll be right back in there."
As Andrews continues to work his mind and body back to where he once was, he has relied on the support of his teammates. On the field, he usually watches their backs, but right now, they've all got his.
"Of course I always say it's not about me," Andrews said. "Definitely, just to be back amongst the guys, I really feel like I'm close to where I need to be for the opener and I'm definitely going to get there in two weeks."